Political representatives call for struggle for Öcalan's freedom
Political party representatives that visited the vigil for Öcalan's freedom in Kirkuk stated that the struggle for Öcalan's freedom is a national issue.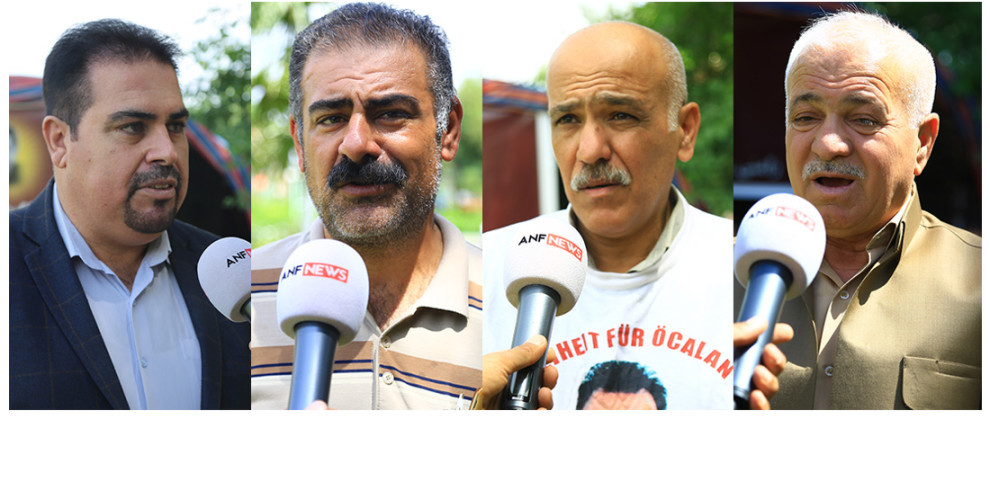 The vigil launched in Kirkuk yesterday to draw attention to the isolation of Kurdish People's Leader Abdullah Öcalan continues in Castle Garden. Many politicians and civil society organization members participate in the vigil led by Tevgera Azadî, Kurdistan Free Women's Movement and Kurdistan Patriotic Youth Movement today.
Representatives of the Gorran (Change) Movement, Kurdistan People's Democratic Movement, Kirkuk Zoroastrian Center and Derîn Peshmergas also visited the vigil today.
Speaking to ANF, political representatives stated that the struggle for Öcalan's freedom is a national issue.
"ÖCALAN'S ISOLATION TARGETS ALL THE KURDS"
Kurdistan People's Democratic Movement's Kirkuk and Sulaymaniyah representative Hashim Elî stated that the isolation of Kurdish People's Leader Abdullah Öcalan targeted all the Kurds regardless of which party they belong to.
Elî continued: "The Turkish state is executing this policy of isolation against all the Kurdish people. What is more bitter in this regard is the attitude of Kurdish political parties and figures that turn a blind eye and deaf ear to these policies. As the peoples and political parties of Kirkuk, we never accept the injustice against the people of North Kurdistan."
Elî recalled that Öcalan has been held in isolation for more than two years, stressing that: "With these policies, the Turkish state believes that it can silence the Kurdish people. However, the scream and struggle for freedom is rising in four parts of Kurdistan."
"THIS PLAN WILL ALSO FAIL"
Mihemed Goldereyî on behalf of the Gorran Movement said they joined the vigil in order to protest the isolation of Öcalan, and continued: "They think that they will succeed by cutting the connection between the Kurdish people and their leader who fights for them. However, don't they know that a leader can never be distanced from his people for whom he struggles? A free person's ideas can never be isolated. We call out to the colonizers of the Kurdish people: This plan will fail just like how your previous plans did."
'WE MUST STRUGGLE FOR ÖCALAN'S FREEDOM"
Kirkuk Zoroastrian Center director Hêmin Qehreman stated that he participated in the vigil in protest at the policies targeting the Kurdish people, and said "Such an approach toward a person, a leader that demands the rights of his people is unacceptable. Turkey speaks of democracy. Is there such a thing in democracy? Does a people's leader have to be imprisoned because he demands his people's rights? It is no more acceptable. We must struggle for Öcalan's freedom, not for end of the isolation. The entire world should face these truths."
"LEADER APO CANNOT BE APPROACHED ORDINARILY"
Derîn peshmerga Sirwan Mihemed stated that he sides with everyone that struggles against dictatorship and cruelty, emphasising that: "Leader Öcalan cannot be approached ordinarily because he is no ordinary person. His philosophy and struggle inspires all oppressed peoples. It is Leader Apo's philosophy that made the Kurdish people known by the whole world. Neither the right nor the left managed to do this. It is Leader Apo's philosophy that did it. Leader Apo became the architect of great transformations not only when he was outside but also while in jail. He left his mark in history by developing his paradigm of women's liberation not only among Kurdish people but all Middle Eastern societies."