People of Shengal march in protest at the isolation of Öcalan
A march was held in Shengal to protest the aggravated isolation imposed on Kurdish leader Abdullah Öcalan.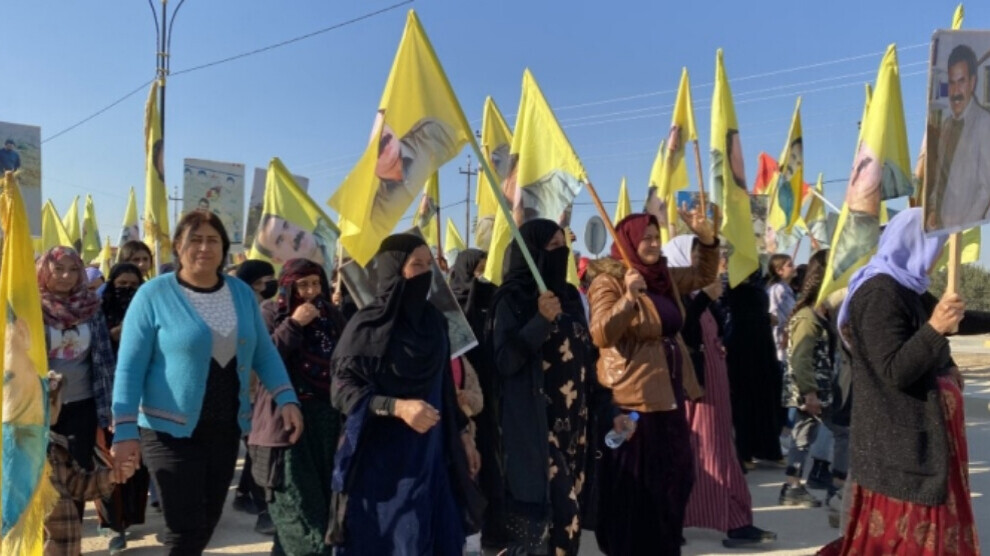 Hundreds of Yazidi and Arab citizens staged a march in Shengal under the leadership of the Yazidi Women's Freedom Movement (TAJÊ) and the Shengal Democratic Autonomous Assembly to protest the aggravated isolation regime imposed on Kurdish leader Abdullah Öcalan in Turkey.
The crowd displayed posters of Öcalan during the march, which was followed by a press statement.
The statement read out by a tribal leader, Nayif Şemo, said, "Leader Öcalan embraced Shengal in the most difficult times. And now, we, the Yazidis, Arabs and the whole of Shengal, must embrace him. We will continue our protests until we hear from him. We call on all human rights institutions to obtain information on Öcalan's situation and to share it with us."
Since 2019, Abdullah Öcalan and his three fellow prisoners, Ömer Hayri Konar, Hamili Yıldırım and Veysi Aktaş, have not been able to meet their lawyers. The last physical contact with them took place during a family visit in March 2020. About a year later, the Turkish authorities allowed one more phone call. Since then, 21 months have passed and the Imrali prisoners continue to be held in absolute solitary confinement. According to the Asrin Law Office, which represents Öcalan and his fellow prisoners, this is a state of affairs that violates universal legal standards and national laws and constitutes torture and ill-treatment.
When the Council of Europe's Committee against Torture (CPT) announced in early October that it had made an ad hoc visit to Turkey in September and had also inspected Imrali, Kurdish society hoped that this would bring transparency and clarity to the situation on the prison island. But as Asrin Law Office announced last week, Öcalan did not take part in the conversation with the CPT delegation. Kurdish organisations then called for protests to put pressure on the institutions involved to intervene urgently and ensure that visits to Imrali can finally take place.