People of Qandil condemn the attacks of the Turkish state
People living in Qandil protested the bombardment of Mehmet Karasungur Cemetery of Martyrs by the Turkish state which they said will never intimidate them.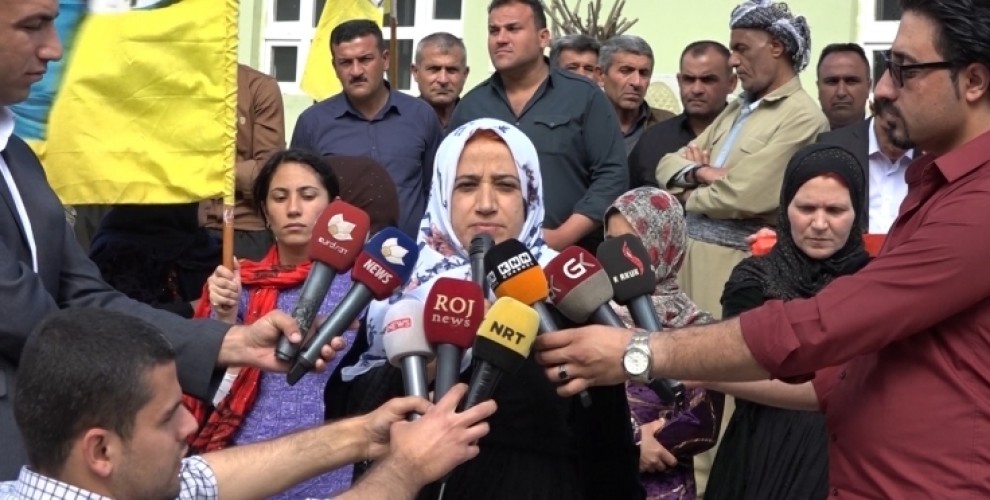 Residents of Binarê Qandil region held a press conference condemning the Turkish state's bombardment of Mehmet Karasungur Cemetery of Martyrs which left the graves and museum in the cemetery demolished. The press statement was set to be made at the cemetery but was made in front of the Binare Qandil Municipality instead due to ongoing Turkish aerial activity over the region.
The statement to the press was made by Binarê Qandil Co-mayor Amine Hesen who started her words by condemning the Turkish state's inhumane attacks targeting the sacred places of the Kurdish people.
Hesen recalled the Turkish state's previous attacks on Qandil and the Zergelê massacre, stressing that these attacks will never intimidate the people of Qandil nor make them surrender. Hesen also called on the Federal Kurdistan government to adopt a stance against the Turkish state's cross-border operations and attacks.
"ATTACKS TARGET ALL THE KURDISH PEOPLE"
Speaking after, Binarê Qandil Enzê village Faith Commission member Maruf Resul Mustafa said the followings:
"As the people of Qandil, we have urged international authorities, human rights organisations and media organs dozens of times to make the Turkish state stop these attacks. It must be known that these attacks are not aimed at the PKK. Invading Turkish forces massacre and jail our brothers and sisters and burn their villages in Northern Kurdistan. They also attack and bomb the villages in Rojava Kurdistan. To make matters worse, they attack the lands of Southern Kurdistan together with the invading forces they have deployed on these lands. They are bombing the cemetery of martyrs. What offense did our dead, birds and doves commit? Why are they being targeted? It is obvious that they are afraid of not the living Kurds alone, but the dead Kurds as well. I strongly condemn this attack."
"THE KURDISH PEOPLE AND GUERRILLA WILL TRIUMPH"
Ahmet Muhammed Abdullah on behalf of Binarê Qandil Yo
uth Assembly also condemned the attack, and underlined that they will never bow to the tanks, artilleries and bombs of Erdoğan. Abdullah said their will is too strong to be defeated by these attacks, emphasising that: "It will be the Kurdish people and guerrilla to triumph."