Noam Chomsky will open Rojava Freedom Annual Lecture Series
Noam Chomsky to open Rojava Freedom Annual Lecture Series organised by the University of Rojava.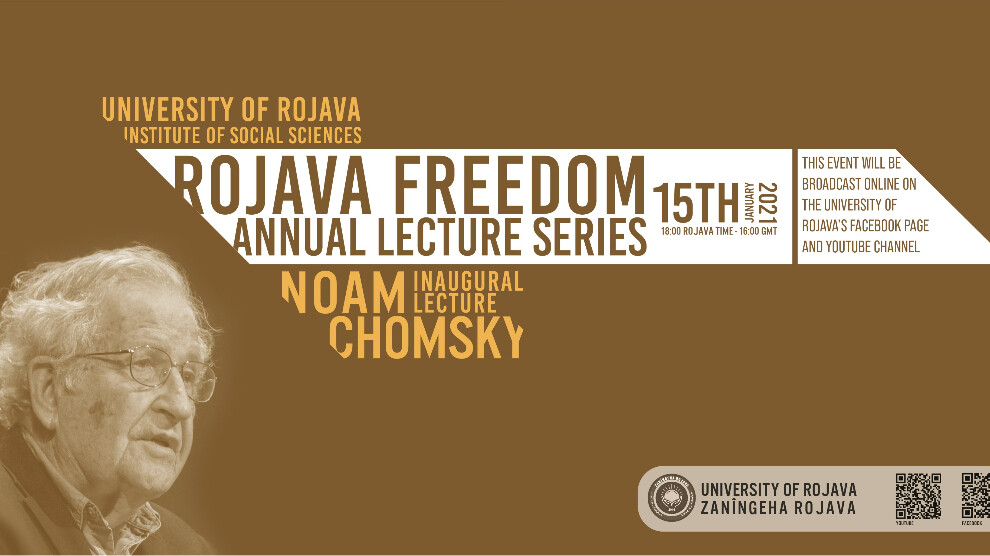 The Institute of Social Sciences at Rojava University will hold a special event on 15 January. The event is the Rojava Freedom Annual Lecture Series and the Inaugural Lecture will feature Noam Chomsky.
The lecture will be on 15 January at 16:00 GMT. The event will be broadcast online on the University of Rojava's Facebook page and YouTube channel.
During the extreme and rapid changes and transformations occurring in the region, despite the hardships, lack of resources, ongoing wars, and various other threats on the North and East of Syria, Rojava University was founded in 2016 in the city of Qamishlo. Since then the University's faculties and departments have welcomed more than 1500 students.
Intending to build an alternative education system, the University of Rojava has introduced a new philosophy, opening new horizons, and embedding fundamental rights, principles as well as values into its education system: respect for multiculturalism and multilingualism, equality between women and men, environmental justice, independent-minded people, and critical thinking.
The university is  trying through its institutions and our unique ways of governance to build a modern and democratic system as opposed to a traditional system, and that in itself is a revolution.