Mêrdîn: The spirit of 8 March resistance will be seen in Newroz as well!
KJK Coordination Member Rewşen Mêrdîn emphasized the need for women's organization and alliance against the patriarchal system's efforts to dismantle women's achievements and said the spirit of 8 March will be seen in Newroz.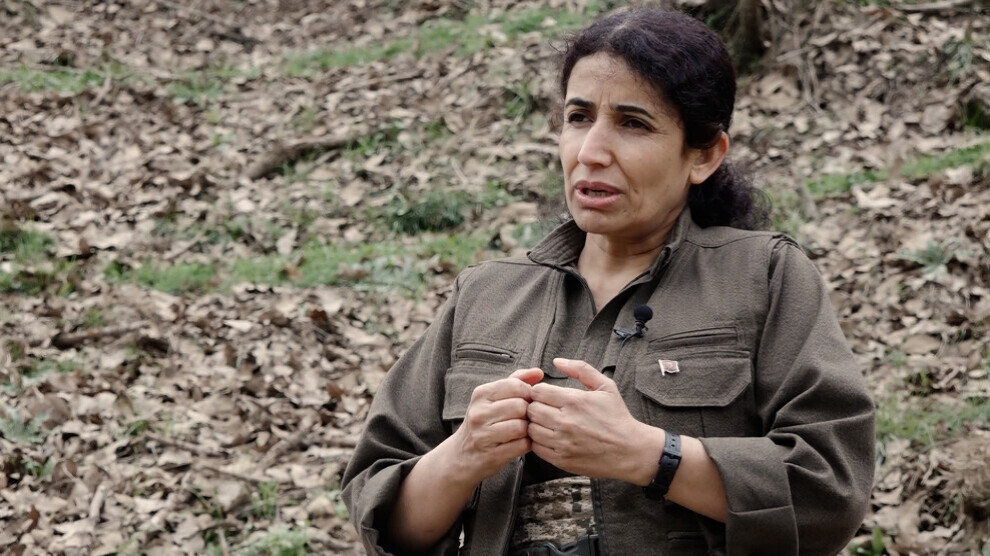 KJK Coordination Member Rewşen Mêrdîn said that Newroz Day is very important to the Kurdish people, and "Kurds must show once again in Newroz that they do not bend to the injustice, oppression, and torture they are subjected to."
Speaking to ANF, Rewşen Mêrdîn, who predicted that 2022 will be a great year, noted that despite the pressure, women were in a state of great resistance. Mêrdîn congratulated the women who took to the streets on 8 March and highlighted that their efforts should not be confined to 8 March and should continue.
Emphasizing that Kurdish women are seriously leading the resistance in four parts of Kurdistan and abroad, they took to the streets to express their opposition to genocide and fascism, Mêrdîn said that "with the Dem Dema Azadiya Rêbertî and the Time to Defend Free Women and Society against Femicide, Kurdish women have raised their struggle even more. For years, women have been subjected to horrific abuses by the patriarchy. Therefore, if women do not organize and form alliances, their achievements will be in danger."
UNITY IS NEEDED IN ORDER TO DEFEAT FASCISM
Mêrdîn stated that the Rojava Revolution demonstrated to the entire world to be a women's revolution and that women from all nationalities came together in Rojava and fought together to protect their lands.
Mêrdîn went on to say that "first and foremost, we congratulate women for this attitude. The Turkish state is attacking Kurdish people and women in Bakur. Organization, unity, and education are needed to defeat fascism. The spirit of resistance demonstrated by women on 8 March should be repeated in Newroz. This year, it is the Leader's Newroz and the Newroz marking the 50th anniversary of the struggle. That is why, as women, we must lead the Leader's physical freedom and rise in every field. Let's demolish fascism's fortresses. Let's bury the enemy's trenches with Newroz fire together.  Newroz signifies resistance, life, the herald of spring, and prosperity, and it should be celebrated with great dignity. Let's make this Newroz the Newroz of the Leader reclaiming his physical freedom and tearing down Imrali's walls."
IF OUR LEADER IS LIBERATED, OUR PEOPLE WILL BE FREE
Mêrdîn  continued: "Every Kurd should be in Amed Newroz. The Kurdish people must once again show that they do not bow to every oppression, persecution and torture they are subjected to. In this Newroz, we must secure our Leader's physical freedom. Because if the Leader is free, our people and land will be free as well. We greet the Leader's resistance. Today, we must tear down the barriers that have been built around Imrali. The fascist government's isolation strategy in Imrali impacts all prisons. In the person of the Leader, women are also subjected to severe isolation, women are imprisoned for their demands of freedom. They assassinated Garibe Gezer, while Aysel Tuğluk is suffering from major health difficulties. Again, there are hundreds of sick prisoners, but the enemy wants to silence their families and society by refusing to release them. As the Kurdish people and the Freedom Movement, we are not afraid of death or anything else."
THE RESISTANCE OF THE PRISONERS MUST BE SUPPORTED
Rewşen Mêrdîn said that the Turkish state actually shows its weakness and powerlessness with its attacks on human rights and the rule of law, and added: "The resistances in prisons also weakened the enemy, which is why they attacked so fiercely. Our comrades who served their sentences are arbitrarily kept in prison. We had to attend the funerals of people who have been imprisoned for 30 years and should have been released long ago. We must fight against these inhumane and fascist practices, as well as provide a voice and support for the prisoners. The women's movement, youth, and society should be aware that the continued resistance in the prisons is for the Kurdish people, freedom, leadership, and humanity. We're fighting a humanitarian struggle against the AKP-MHP fascism and we demand our rights. In the same way, as YJA Star and HPG guerrillas are battling fascism hand in hand in the mountains, and our comrades in the prisons are resisting fascism, we must take the same stance in society with a women-led struggle. Now is the time to live freely and in unity with our leader. If our leader's paradigm is accomplished, the continuing war and turmoil in the Middle East will be over. The enemy is doing everything to prevent this. We must strengthen the solidarity of peoples and the alliance of women."
WE HAVE THE POWER TO LIBERATE OUR LEADER
Referring to the increasing femicide in South Kurdistan, KJK Coordination Member Rewşen Mêrdîn concluded her speech with these words: "In South Kurdistan, a woman was just murdered by her brother. However, there are statement which are literally legitimizing femicides.
Finally, in the south, the National Kurdish Women's Workshop was held. Important decisions were taken at the workshop which called for national unity and to protect Yazidi women. We are all responsible for putting the workshop decisions into action. We, as women, must take the lead because we owe it our Leader for the opportunities he provided. Therefore, we must crown the year 2022 with the Leader's physical freedom. We have the means and the strength to accomplish this. Happy Newroz 2022 to Leader Apo, our comrades in the war, the prison resisters, and our people who are on their feet 24 hours a day."