Martyr Yasin Bulut laid to rest in Qendil
Yasin Bulut, a member of the Solidarity Committee with the Families of the PKK Martyrs, who was killed in an armed attack in Sulaymaniyah, was buried after a ceremony in Qendil.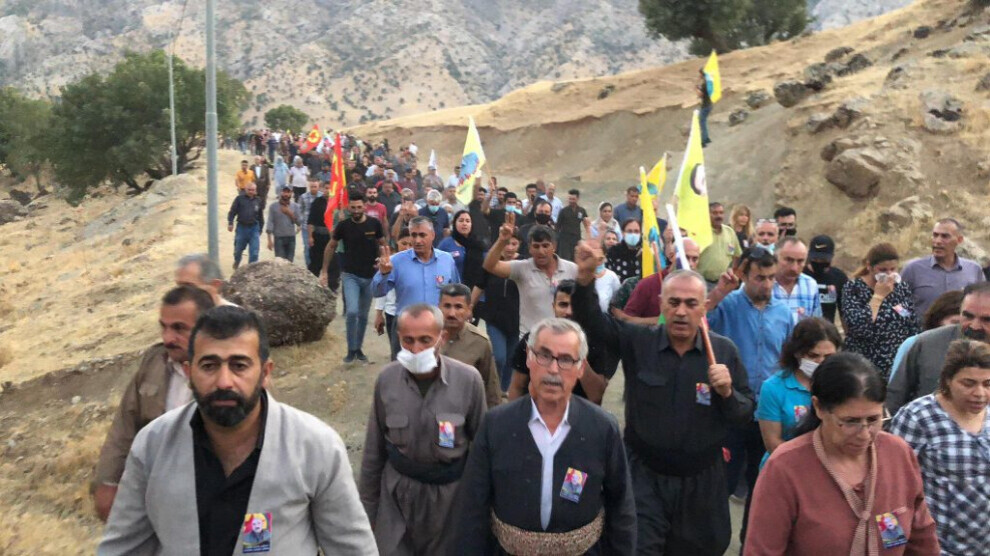 Yasin Bulut (Şükrü Serhat), a member of the Solidarity Committee with the Families of PKK Martyrs, was murdered in the neighbourhood of Çarçira in Sulaymaniyah, as a result of the armed attack of the MIT, the intelligence agency of the fascist Turkish state.
As a result of the autopsy performed in Forensic Medicine, it was determined that Yasin Bulut was killed by 4 bullets.
Thousands of people from Hewler, Kelar, Ranya, Sulaymaniyah, and Halabja, flocked to the funeral of the martyr, whose corpse was later taken to the Ehmedê Haci Elî Mosque in the Serçinar district.
As the funeral convoy passed through Sengeser, the people of Ranya, Sengeser and Qeladize greeted it with slogans.
Hundreds of people, including Tevgera Azadî and members of the Southern Kurdistan Martyrs' Families Committee, attended the ceremony held at the Mehmet Karasungur Martyrs' Cemetery.
The ceremony started with a minute's silence in memory of Yasin Bulut. Later, Ebdulwehab Ehmed made a statement on behalf of the PKK Martyrs' Families Committee. Ehmed said that Yasin Bulut has been participating in the PKK struggle for more than 40 years and always worked hard.
Condemning the MIT attack, Ehmed said: "The enemy should know that we will increase the struggle of comrade Şükrü."
Tevgera Azadi Co-Chair Mihemed Abdullah pointed out that the Southern Kurdistan administration was responsible for the murder of Yasin Bulut and said: "South Kurdistan has become a field of terror because of this government."
After the statements, martyr Yasin Bulut was buried.