HPG reports 150 chemical weapons attacks against guerrilla positions in Zap
According to HPG information, the Turkish army has carried out 150 chemical weapons attacks against a single guerrilla position in southern Kurdistan within three days.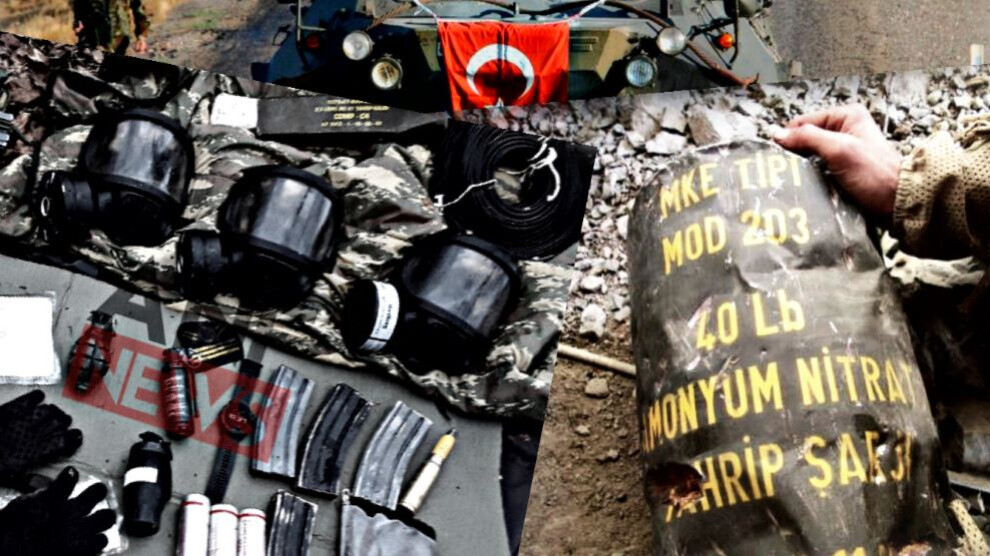 In its current statement about the ongoing war in Kurdistan, the Press Office of the People's Defence Forces (HPG) reported that the Turkish army has carried out 150 chemical weapons attacks against a single area in the Zap region of the guerrilla-held Medya Defence Zones in southern Kurdistan (northern Iraq) within three days.
"The occupation operation launched by the Turkish army on 15 April has crashed against the wall of legendary resistance and sacrificial will of the Kurdistan Freedom Guerrilla and has not achieved its goal. The occupation forces cannot protect themselves against the effective actions of the guerrillas and suffer heavy losses. The Turkish army continues its war crimes and uses chemical weapons. Although the use of banned bombs and chemical weapons has been documented and proved, these crimes are denied by Special War Minister Hulusi Akar. However, the fascist army continues to use chemical weapons in the Medya Defence Zones. On 7, 8 and 9 December, the Şehîd Botan fighting positions in the Çemço resistance area were bombed with chemical weapons at least 150 times."
On Friday, the guerrilla areas in Southern Kurdistan were additionally bombed five times by fighter jets and ten times by attack helicopters and attacked dozens of times with howitzers, mortars, tanks and heavy weapons, the HPG said.
The guerrillas, on the other hand, continued to carry out resistance actions and two soldiers were killed. Regarding the details of the guerrilla actions on 9 November, the HPG said that the Turkish occupation forces in Çemço were struck twice by mobile guerrilla teams with heavy weapons, killing two soldiers. In the Girê Cûdî resistance area, guerrillas carried out seven actions with heavy weapons, three of them by mobile fighters of YJA Star (Free Women's Troops). On Friday evening, the guerrillas intervened against an airborne operation at Girê Cûdî and forced Turkish transport helicopters to withdraw.
According to the HPG, the Turkish army's chemical weapons operations against the Şehîd Botan position continue. Strikes by fighter jets were directed against Girê Cûdi and the Rostê area in Xakurke. Helicopter attacks, on the other hand, targeted the areas of Girê Amêdî and Girê Cûdî.
On the other hand, HPG also pointed out that suspicious leaflets in the name of HPG are being distributed in Yüksekova in the northern Kurdish province of Hakkari. On these leaflets the names of people from the region are mentioned and threats are made. "We inform these leaflets that they do not come from our forces and are written in the style of special war personnel", said the HPG, calling upon the people to disregard the leaflets.