HPG pays tribute to fallen guerrillas Arjîn and Zinar
The HPG has released the names of two fighters who fell martyrs in North Kurdistan.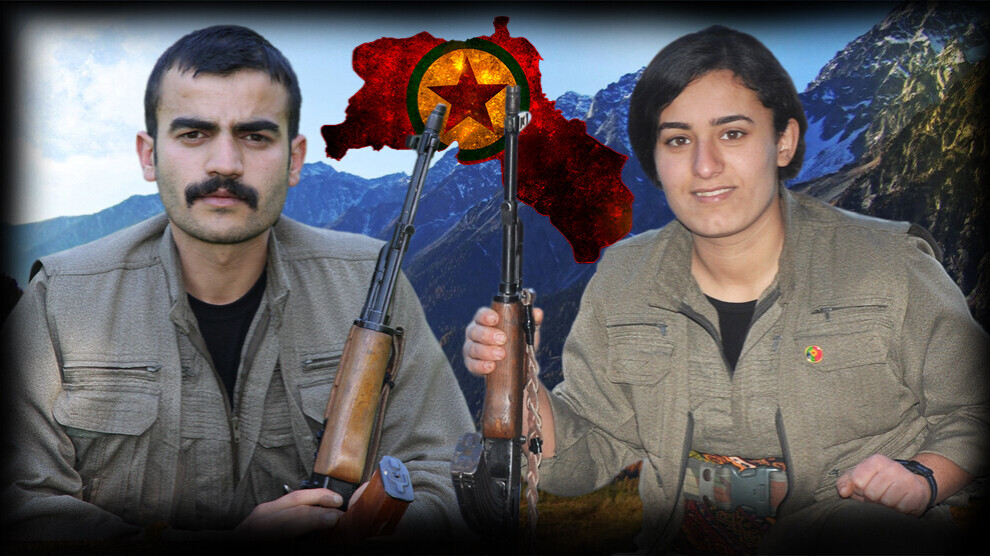 The HPG Press Center has published the names of two fighters who fell martyrs. Arjîn Kurdistan fell in August 2019 during a battle against the Turkish army near the village of Aşutê in Çukurca, Hakkari province. Zinar Rengîn fell, as had already been reported, on 2 December 2020, and his full identity details were released today. Zinar Rengîn fell together with four other fighters in September 2020 during a military operation in the Deriyê Doxana area on Herekol Mountain in Siirt.
Code name: Arjîn Kurdistan
Name and surname: Şükran Kızılaslan
Place of Birth: Siirt
Mother and father's name: Zeliha - Reşit
Date and place of death: August 2019 / ÇelêÇukurca
The HPG statement said: "Arjîn Kurdistan was born into a patriotic family in Siirt and grew up listening to stories about the fallen of the Kurdish liberation struggle. The struggle of Kurdish women from the Garzan region was very inspiring for her. This is how Arjîn Kurdistan developed a strong personality. She joined the guerrilla in Garzan and took the name of fallen commander Arjîn Garzan. She was able to cope with the difficult conditions of the guerrilla struggle in North Kurdistan. She later spent some time in the Medya Defense Areas, where she continued her ideological and military training. However, her goal was always to return to Garzan. She was as an enthusiastic, happy and sincere woman who contributed to a positive atmosphere among the guerrillas and who carried out her duties as a self-sacrificing militant without hesitation."
Code name: Zinar Rengîn
Name and surname: Yusuf Esmer
Place of birth: Mardin
Mother and father's name: Saliha - Mehmet
Date and place of death: 28 September 2020 / Herekol
The statement added: "Zinar Rengîn came from a patriotic family in Mardin and got to know the Kurdish liberation movement when he was quite young. Motivated by his social environment, he was active in many areas and joined the guerrilla in 2013 with a group of Kurdish young people. In the mountains he was known for his morale and great enthusiasm and continued his ideological and military training. As a guerrilla fighter he eventually went to Botan and became a leading militant in the resistance against the Turkish occupation.
The HPG express their condolences to the relatives and the patriotic people of Kurdistan and declare that the fight of the fallen will continue until victory."