HDP Hewler Representative Office condemns detention of members by KDP
Peoples' Democratic Party representatives who were taken into custody by the KDP forces in Hewler on October 7 condemned the detentions.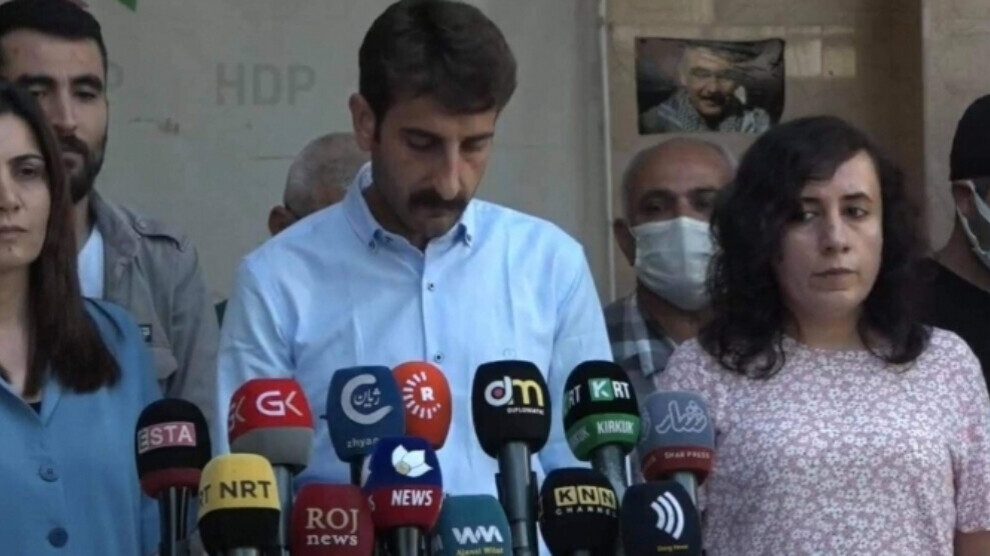 HDP (Peoples' Democratic Party) Hewler (Erbil) Representative Office denounced the detention of its members in a statement on the anniversary of the October 9 conspiracy against Kurdish leader Abdullah Öcalan.
"First of all, we condemn the international conspiracy against Abdullah Öcalan 23 years ago. Throughout this period, Mr. Öcalan has been kept under severe isolation conditions," the representative office said.
"The international conspiracy and the aggravated isolation that followed cannot be accepted. It should be known that the conspiracy and isolation itself is the outcome of the monist, denialist and assimilationist mentality and politics of the nation state," the statement continued.
"During these 23 years, Mr. Abdullah Öcalan has not taken a step back from the democratic free unity of the peoples and the democratic solution line. While Mr. Öcalan's struggle for a democratic solution was gradually embraced by more people, AKP-MHP government insisted on its oppressive and rejectionist policies and practices which have brought along problems not only to the Kurdish and Turkish peoples, but also to all the peoples of the region.
What needs to be done at the current stage is to abandon the Kurdish denial and introduce a democratic solution to the Kurdish question.
As stated in our declaration, we express that all our problems can be resolved through dialogue and negotiation. A common democratic struggle of all peoples, particularly the Kurdish people, will help us do so. The declaration of our party which was announced to the public on August 27 provides a historic opportunity for this. A genuine democracy front has therefore become more imperative than ever.
As you know, as HDP Hewler representatives and members, four of us were detained by the Hewler Asayish (local security forces) albeit for a short time.
We cannot accept such detentions because we, as representatives of political parties, carry out our activities officially. Our residences are known, as well as our activities. The Asayish can visit us any time, listen to our views, and report a problem if there is any. Therefore, we hope that what happened yesterday will not be repeated."