Graves of guerrillas attacked again in Lice
The Turkish regime's war against the dead of the Kurdish people continue.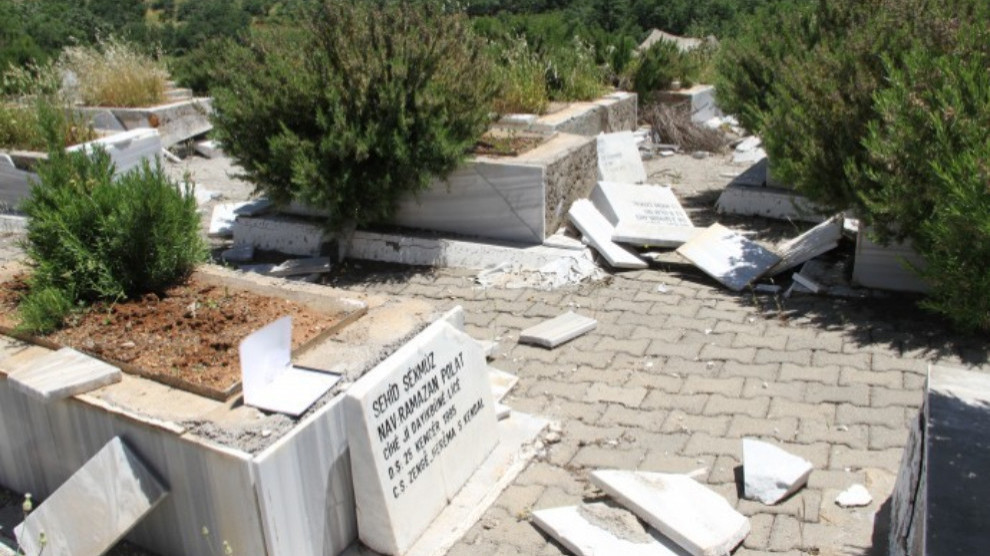 The AKP-MHP regime's attacks against the values of the Kurdish people continue unabated. Graves of guerrillas buried in the Goçxar hamlet in the rural neighborhood of Esenler (Balicne) in Amed's (Diyarbakır) Lice district have been attack. The gravestones of HPG (People's Defense Forces) guerrillas Rıdvan Mutlu and Mehmet Mutlu have been broken, because of the Kurdish inscriptions on them, according to the residents who speak of a Turkish military operation in the area.
OVER 200 GRAVES ATTACKED
The recent wave of attacks against the dead have targeted the graves in Yolçatı (Sîsê) and Çavundur (Licok) neighborhoods in Lice countryside. The graves desecrated here belonged to guerrillas, and civilians murdered by JITEM, the secret intelligence service of the Turkish gendarmerie responsible for countless killings during the 90's.
The Amed branch of the Association of Lawyers for Freedom (ÖHD) has recently released a report on the destruction of graves by Turkish security forces in the Lice region. According to the report, security forces destroyed all the 241 graves in the Sise Cemetery.
The Turkish state's systematic attacks against cemeteries have been continuing increasingly since 2015.
RELATED NEWS: