Freedom for Ocalan Committee: Ocalan must be free
Freedom for Ocalan, South Kurdistan committee called for the release of Kurdish People's Leader Abdullah Ocalan at the 19th anniversary of the international plot.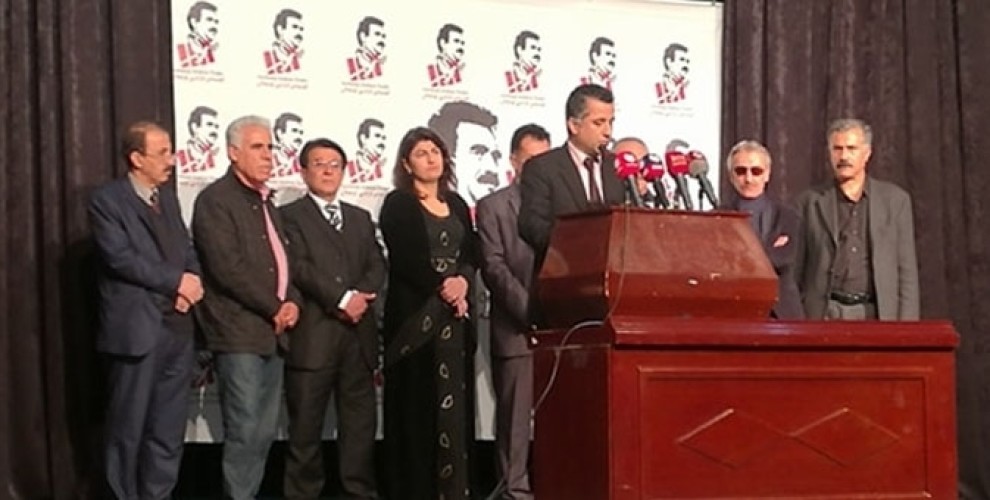 The committee held a press conference in Sulaymaniyah on the 19th anniversary of the international plot against Kurdish People's Leader Abdullah Ocalan.
Committee member Rêkewt Îsmaîl said the following at the press conference:
"Almost 20 years ago the Kurdish philosopher and leader "Ocalan" was arrested.
On 15 February 1999, 19 years ago, an international conspiracy principally led by America abducted "our great leader" Mr Ocalan in Kenya and handed him over to the Turkish state.
Since then Ocalan has served his life in solitary confinement in a very intense situation. The Turkish invaders and their allies believed that after they arrested Ocalan that they could destroy Kurdish freedom movements in North Kurdistan and other regions as well.
They have since shown that this assumption was short sighted and incorrect as Kurdish freedom movements have only become much stronger politically, ideologically and militarily and their spiritual resistance is at a very high level.
Today Ocalan's manifesto from Imrali prison created a roadmap solution for Kurdish issues and for the whole of the Middle East.
For that reason, Ocalan's imprisonment has been ineffective as his inspirational ideology has only got stronger.
His ideology and his path have been an inspiration for those who fight for freedom, equality and to live together.
Freedom for Ocalan committee has been active in most countries and have so far amassed 10 million signatures which have been handed to the United Nations.
Every year 10 thousand freedom fighters demonstrate and demand freedom for Ocalan along with hundreds of lawyers, international organisations, hundreds of famous people and politicians.
The most important thing is that Mr Ocalan himself offered the best solution for peace a few times and his decision directly initiated unilateral ceasefires.
Despite all the offers for peace and trying to avoid war the Turkish invader state continues to keep Ocalan in prison and persist with their dirty politics by keeping him in isolation and inflicting psychological
torture. The Turkish state is also responsible for genocidal crimes against Kurdish people in Northern Kurdistan.
At present Ocalan's lawyers continue to ask for visitation rights to see Ocalan but since 2011 their appeals to visit have been rejected 726 times. That is unacceptable to our Kurdish people therefore, a lot of anger and frustration is felt amongst the Kurdish community.
As a result there has been a huge increase in support for Ocalan. Our committee demands that the committee for the prevention of torture (CPT) and all other responsible parties put an end to this illegal situation and Ocalan must be freed.
As Freedom for Ocalan, South Kurdistan committee we strongly protest the international conspiracy against our "inspirational leader and philosopher" Ocalan. We demand that our people are more effective in showing their solidarity for Ocalan.
In addition, we ask the international communities to protest the shameful behaviour and prevent it from continuing any longer. Also, we are warning the Turkish fascist state how their dirty tactics have backfired and they have gained nothing from their treatment and imprisonment of Ocalan and other Kurdish leaders in Turkey.
Freedom for Ocalan send their welcome to brave resistances in AFREN also to our political prisoners and co-chair of (HPD) and their members. We are sure our resistance will be successful. Only now the Turkish state needs to find peace, communicate and put an end to the killing and hateful behaviour.
Salutation to Imrali
Long live the guerrillas
Long Live our martyrs"