Former MP Sincar commemorated: He was murdered by the system
Mehmet Sincar, a DEP Deputy who was assassinated 28 years ago, was commemorated by his grave. The commemoration also drew attention to the AKP-MHP government's hatred toward Kurds.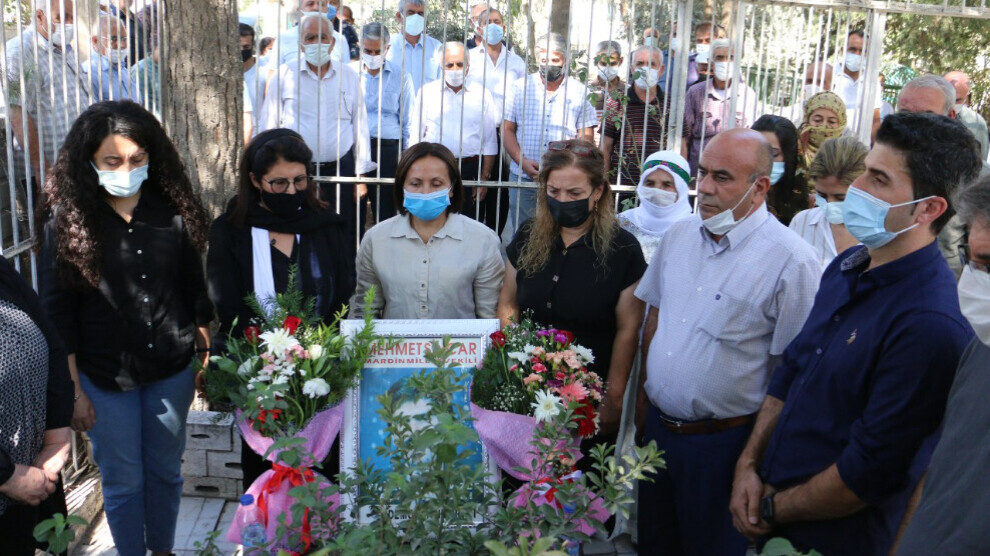 Mehmet Sincar, a deputy of the Democracy Party (DEP) from Mardin who was assassinated in Batman along with Metin Özdemir in an armed attack on Elma Street on September 4, 1993, was commemorated at his burial place today. Many people attended the memorial service by his grave in Mardin's Kızıltepe district, including the Sincar family, HDP Spokesperson Ebru Günay, and Deputy Pero Dündar.
'THE KILLER IS NOT ONE PERSON, WE KNOW THAT!'
Cihan Sincar, Sincar's wife, stated that her husband and Metin Özdemir were murdered during the week of peace and that the attack was carried out by people who opposed peace. Defining the fact that the offenders have not been caught in 28 years as a disgrace to the Assembly, Sincar noted that the Ministry of Justice has only justice in its name and added, "We will not abandon the struggle of Mehmet and Metin and millions who followed them, no matter what the cost. We all know that the murderer is not only a person."
 'THIS GOVERNMENT IS THE ENEMY OF THE KURDS'
Pero Dündar of the HDP also indicated that the offenders are known and that those who murdered Musa Anter, Vedat Aydın, Mehmet Sincar, and Deniz Poyraz were the same people. He continued, "Mehmet Sincar 28 years ago, Deniz Poyraz today. Deniz was probably a tiny child when Mehmet Sincar was slain, yet she was murdered in the same manner. As a result, we know who murdered them and who fired the fatal shot. This is a method. We can't show anyone who doesn't have a martyr in their family. There's a martyr in every house. Maybe there wouldn't be any more deaths if Mehmet Sincar could shed light on the murders that he had set out to investigate. According to the authorities, there are now 17,000 unsolved killings. When this government came to power, they promised that they would shed light on unidentified murders. They are, however, closing those files one by one. Those who vowed to solve the cases have done the same. Those who are responsible for the massacres in Nusaybin, Sur and Cizre are the same people."
Dündar stated that the offenders gained strength from their impunity and added, "Because this government has not abandoned its anti-Kurdish stance until now. It congratulates people who kill a Kurd and they see it as an honour. However, the murder of every single Kurd must be a disgrace to the government."