Extraordinary meeting in Amed discusses isolation and occupation
Parties and institutions gathered in Amed (Diyarbakir) for an extraordinary meeting to discuss the Imrali isolation and invasion attacks, insisting that "Abdullah Öcalan must be freed".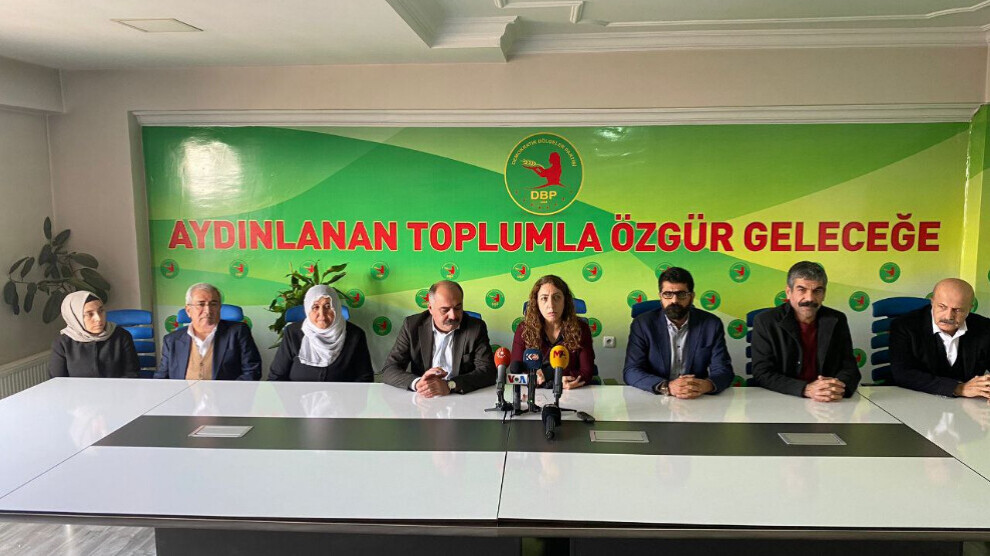 The DTK (Democratic Society Congress), TJA (Free Women's Movement), DBP (Democratic Regions Party), HDP (Peoples' Democratic Party), MED TUHAD-FED, ÖHD (Libertarian Lawyers' Association) and Peace Mothers held an extraordinary meeting in Amed (Diyarbakır) to discuss the Turkish invasion attacks and the Imrali isolation. After the meeting, representatives of the institutions held a press conference. Kudret Eryılmaz from the Peace Mothers, DBP Co-Chair and Amed Deputy Saliha Aydeniz, DTK Co-Spokesperson and Ağrı Deputy Berdan Öztürk and Amed Deputy İmam Taşçıer were present at the press conference.

'ABDULLAH ÖCALAN SHOULD BE FREED'
DBP Co-Chair and Amed MP Saliha Aydeniz delivered a speech, stating the following:
"Two days ago, the Asrın Law Office made a statement, according to which the CPT (Committee for the Prevention of Torture) delegation did not meet with Mr. Abdullah Öcalan during its last visit to Imralı. The fact that the CPT did not make a statement after this visit on September 20 has deepened our concerns. There has been no communication with Mr. Öcalan for 20 months. The isolation imposed on Mr. Öcalan is not limited to those 20 months. This is a system of torture and isolation that has been in place since 1999. It is a policy that has become more and more absolute, deepening, and perpetuating. The constant aggravation and perpetuation of isolation shows the way this government and state approach the Kurds and women.
As the isolation at Imrali deepens, this war and cross-border operations against the Kurdish people continue. The current violations of rights in prisons, non-release of prisoners, continuous deaths in jails are all directly related to this isolation. Therefore, the isolation system that started in Imrali and permeated into every aspect of life must be abolished as soon as possible and Mr. Öcalan must be freed as soon as possible.
The details of the CPT visit on September 20 should be revealed to the public as soon as possible. If Mr. Öcalan did not accept to meet CPT officials. This is actually an indication of the severity of the situation. It means that Mr. Öcalan rejected talking to an institution like the CPT and, as will be remembered, he criticized the frivolity of the state in his phone call with his brother. The isolation of Öcalan, aggravated by both the CPT and the state, points to frivolity. The peoples of the Middle East, especially the Kurdish people, can no longer tolerate this frivolity.
I would like to express that a meeting to address these concerns of society should take place as soon as possible. Parallel to this isolation, there is also a reality of war. Along with the isolation, the government has turned its policies of war and massacre into a form of government seeking to maintain its control over prisons and everywhere. The approach to Imrali has legal, political and social consequences. This country has a constitution and laws, but the isolation system at Imrali goes beyond laws, politics, conscience and morality. Hence, the approach to Mr. Öcalan is also an approach to politics, laws and social groups.
Mr. Öcalan is not an ordinary person. Millions of people consider him as their leader, organizing actions and events to ensure his freedom. Mr. Öcalan is a person who expresses his philosophy, opinions and efforts for peace, despite the whole system of torture and isolation. The main interlocutor of the Kurdish problem is Mr. Öcalan. We always express that Mr. Öcalan is indispensable for the democratization of Turkey and the Middle East and he should be freed as soon as possible. Mr. Öcalan's solution proposals are well known. We witnessed the 2012-2015 period together.
Previously, HDP co-chairs had applied for a meeting with him. We, three HDP deputies, also demand to meet with Abdullah Öcalan. We believe that these problems could be resolved if dialogue and negotiation with Mr. Öcalan was to be secured. He has concrete solution proposals for multiple crises and the Kurdish question. Our applications should be answered as soon as possible. Imposition of disciplinary punishments one after another is a legal cover.  We have never accepted this. The Kurdish people have expressed very clearly their endorsement of Mr. Öcalan in the form of millions participating in the March 8 and Newroz rallies. We want to express very clearly the fact that peoples cannot be free, nor can democracy come to Turkey and the Middle East unless Mr. Öcalan is free. I urge everyone to be sensitive about this issue."
The following response was given to the question "Do you have any concerns about Abdullah Öcalan's health condition?":
"Even his rejection of an interview with the CPT delegation shows how severe the situation is. We do not know anything about his health. Öcalan's health and safety is a top issue for the Kurdish people and the peoples of the Middle East. Of course, we have concerns. What is more important than his health is the increasingly alarming policies of war, massacres and occupation, as well as the isolation system, which must be abolished.
Selahattin Demirtaş and HDP Co-Chairs Pervin Buldan and Mithat Sancar have also applied to meet with Öcalan. Any meeting would help, but it is essential that his lawyers and family meet him first. We always state that what is essential is the freedom of Mr. Öcalan."