DTK, HDK, TJA, DBP and HDP protest Turkish attacks in Kurdistan
Democratic Society Congress (DTK), Peoples' Democratic Congress (HDK), Free Women's Movement (TJA), Democratic Regions Party (DBP), Peoples' Democratic Party (HDP) protested the latest Turkish airstrikes in Maxmûr, Şengal and Derik.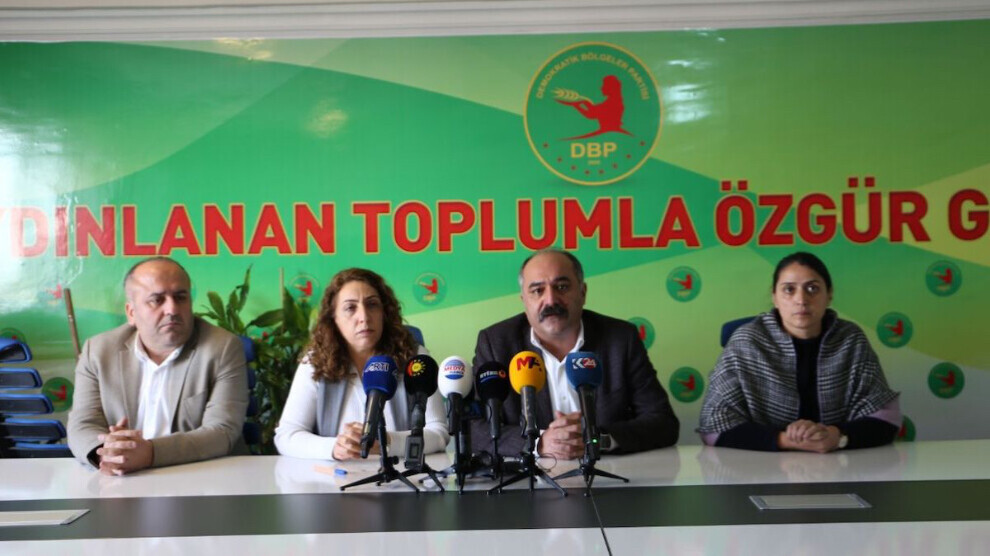 In the evening of 1 February 2022, the Turkish military struck targets in Iraq and northern Syria. Over twenty airstrikes hit the Shingal (Sinjar) region, the home of Yazidis who survived the ISIS genocide of 2014. Over ten airstrikes hit the Maxmur refugee camp, home to a community of Kurds – now numbering over 12,000 – who came to Iraq in the 1990s to escape the destruction of their home villages by Turkish security forces in Turkey.
In Maxmur, two members of the Self-Defence Forces were killed in the Turkish air attack while dozens of residents suffered injuries, some of them seriously.
In Şengal, 21 YBŞ (Şengal Resistance Units) points in the main Yazidi settlement area were bombed. In addition, civilians were also targeted and three civilians were killed and one person injured. The YBŞ did not suffer any casualties.
In Derik, Rojava, Turkey conducted airstrikes targeting the power station in "Kar Kendal" near the village of "Taql Bakl" in "Direka Hamko" region, resulting in destructing the station and the martyrdom of 4 SDF fighters who were protecting the station and wounding 5 civil employees. 
The Democratic Society Congress (DTK), Peoples' Democratic Congress (HDK), Free Women's Movement (TJA), Democratic Regions Party (DBP), Peoples' Democratic Party (HDP) made a joint press statement at DBP Headquarters in Amed to protest the latest Turkish airstrikes in Kurdistan territory.
'TURKEY SEEKS TO REVIVE ISIS'
DTK Co-Chair Berdan Öztürk stated that the Turkish state wanted to resurrect ISIS in the north-eastern Syrian city of Hesekê, but failed to do so. Öztürk said that after Turkey failed to help ISIS revive, it bombed Maxmûr, Şengal and Derik in simultaneous airstrikes. "As you know, Maxmûr is a camp under the auspices of the United Nations (UN). They also made a statement. We call on them to raise their voices. These attacks are unacceptable," Öztürk added.
REACTION TO BARZANI: YOU ARE ALSO RESPONSIBLE!
Öztürk pointed to a meeting between Kurdistan Region PM Nechirvan Barzani and Turkish President Tayyip Erdogan in Ankara one day after the attacks. "Immediately after these attacks, Mr. Barzani met Erdogan in Turkey's presidential complex. South Kurdistan people and political parties should know this well; the recent attacks are a manifestation of hostility towards the Kurdish people. The people of Maxmur, Şengal and Rojava have paid a huge price to defeat ISIS. The Kurdistan regional government is also responsible for the Turkish attacks. It is unacceptable that their officials visited Turkey after civilians were killed in the Turkish airstrikes in Derik, Maxmur and Şengal. Partnership with the enemies of the Kurdish people will not bring anything to the Kurds. A common stance is important, through which we can protect our gains. We condemn these attacks. International institutions and organizations should also raise their voice against these attacks," Öztürk stated.
'KURDISTAN'S GAINS IN JEOPARDY'
Speaking after, DBP Co-Chair Saliha Aydeniz remarked that Turkey is targeting the gains of the Kurds through the attacks. She pointed out that Maxmur, Şengal and Derik were specifically targeted, adding, "Because these three areas are the places where a serious struggle is carried out against ISIS. It should be underlined that they were attacked on purpose. Şengal was bombed 21 times. The reason is that Turkey seeks to help ISIS to complete the Yazidi genocide. However, Şengal will continue its struggle to get a political status for the administration it has established there. The Şengal people will never surrender to these murderous attempts. As the people of North Kurdistan (Turkey's south-east), we are with the people of Şengal and we condemn the attacks."
Aydeniz noted that the people of Maxmur protected Hewler during the ISIS attacks in 2014 and that this was a Kurdish gain. "For this reason, Maxmur was targeted to attack Kurdistan's gains. When it comes to the attack on Derik, ISIS was defeated a second time after Kobanê. It was the beginning of the end. This is the reason why Turkey chose this place," Aydeniz said.
Aydeniz pointed out that those who said "Kobanê is about to fall" wanted to help ISIS reappear in Hesekê 10 days ago. Aydeniz stressed that Turkey's latest attacks were introduced to avenge ISIS members who were defeated in Hesekê. "Turkey's attacks against the gains of the Kurdish people in 4 parts of Kurdistan at a time when we are closest to get a political status should be considered as completing what ISIS has left unfinished. We strongly condemn all these attacks. We will not renounce the Kurdish people's gains. I respectfully remember the 121 martyrs who defended Hesekê on behalf of humanity. These attacks show that Erdogan's government is in desperate straits," she concluded.