Detained by KDP, peace delegates on hunger strike at Erbil airport
Five members of #Delegation4Peace from Switzerland are on hunger strike in the transit area of Erbil Airport. They are protesting against their detention and expulsion, which is planned for Tuesday.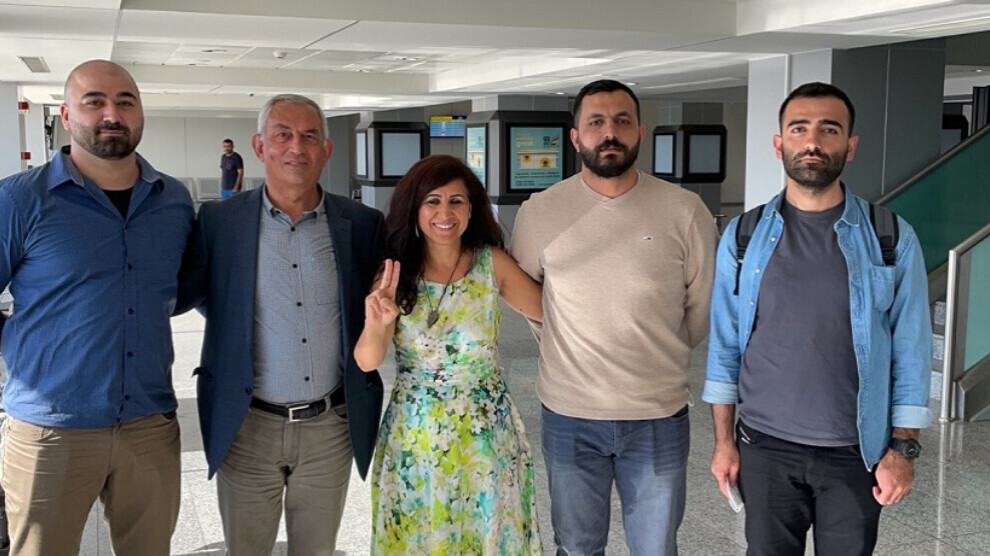 A group of Kurdish delegates went on hunger strike in the transit area of Erbil Airport (ku. Hewler). They are Demir Çelik, Alican Yıldırım, Cemal Demir, Rabia Baldemir and Mutlu Tatar from Switzerland. They all belong to a peace delegation that wants to document the effects of the Turkish invasion in southern Kurdistan (northern Iraq) and advocate for peace. With the hunger strike, the group protests against their detention by the security authorities of the KDP (Kurdistan Democratic Party) and against their expulsion planned for next Tuesday. Until then, the group is not allowed to leave the transit area of the airport.
"We wanted to work here to prevent an intra-Kurdish war," Demir Çelik, co-chair of the Federation of Democratic Alevis (FEDA), told ANF. The exiled politician and former mayor of Varto and the four other delegates from Switzerland have traveled to Hewlêr from Düsseldorf this Saturday. On the other hand, 17 other members of the peace delegation were banned from leaving the country by the German police at Düsseldorf airport. The reason for the measure, which also affects Hamburg's Left Party leader Cansu Özdemir, is the claim that the group poses a "threat" that could "cause lasting damage to the security interests of the Federal Republic of Germany abroad.
"With the hunger strike we protest against our treatment by the KDP and the criminalization of this peace initiative," Çelik said. The answer to efforts to promote an intra-Kurdish dialogue in order to prevent a war between siblings should not be to prevent them from entering their homeland, he added.
RELATED NEWS: