Arabs also under the YBŞ roof in Shengal
Arabs who organized self defense units under the roof of YBŞ in Shengal say that they support Öcalan's libertarian paradigm that removes artificial divides.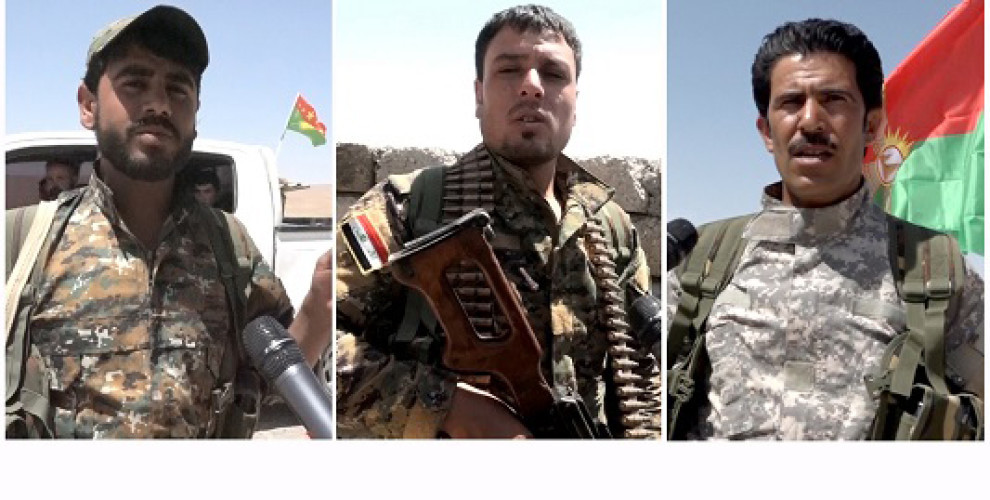 Arabs organizing their self defense units in Shengal's Madiba village state that YBŞ ranks is the only place they feel safe and that they live together with the Êzidî people like before 2014's genocide, and they don't have any problems with each other.
Arab Units' Commander organized under Shengal Resistance Units (Yekîneyên Berxwdana Şengalê - YBŞ) Baz Cizîrî spoke to the ANF. Baz Cizîrî said they reached an agreement and formed an alliance with the YBŞ following their meetings and that they have been fighting together in this area for two years.
THESE LANDS ARE ENOUGH FOR ALL OF US
Commander Cizîrî stated that the attempts to create animosity among peoples by ISIS or similar structures should be foiled and that their lands are enough for all different identities to live together. Cizîrî added: "From this day onwards, we want to strengthen our ideas more and reach a level where our people can govern themselves."
MUSLIMS SHOULD JOIN
Baz Cizîrî invited all Muslims in the region to join this struggle without any fear or doubt and stressed that their doors are wide open.
WE SUPPORT ÖCALAN'S IDEAS
"We support Leader Apo's ideas which have reached results and made us more free, not the ideas of statist and invasionist forces," said Shengal Arab Units Commander Baz Cizîrî and added that to see this, one needs to look at the people in Rojava and see how they have come together in a common life.
ROJAVA IS A CONCRETE MODEL
Baz Cizîrî pointed out that no discrimination is made between Arabs, Christians and Kurds and continued: "We also want our people to live together and equal, like in Rojava. Thus, we should take advantage of this current opportunity, there won't be another. We should strengthen our ideas and turn it into a way of life, otherwise there will be many attacks like ISIS in the future and we won't be able to achieve our freedom. We must reach a strong organization through Öcalan's ideas."
WE ARE COMRADES AND WE FIGHT TOGETHER
Eziz Xendil from Shengal Arab Units stated that he has been keeping watch in the YBŞ ranks in Madiba village alongside Êzidîs, and that they haven't had any problems in the Madiba village which was cleared of ISIS over a year ago. Xendil said: "We are comrades to one another, we fight in the field. Our goal is the same, we will liberate our people from tyranny and we will be free together."
Ciwan Alewa stated that they don't discriminate between Arabs and Êzidîs among themselves either and added: "Right now, there are over 10 Êzidî comrades here, we are on Asayish duty together. I joined the Shengal Freedom Forces and they gave me my village, my lands back."