TMMOB pays solidarity visit to Şenyaşar family
Members of the Union of Chambers of Turkish Engineers and Architects (TMMOB) paid a solidarity visit to the Şenyaşar family that carries out a justice vigil to protest the massacre of family members by AKP members.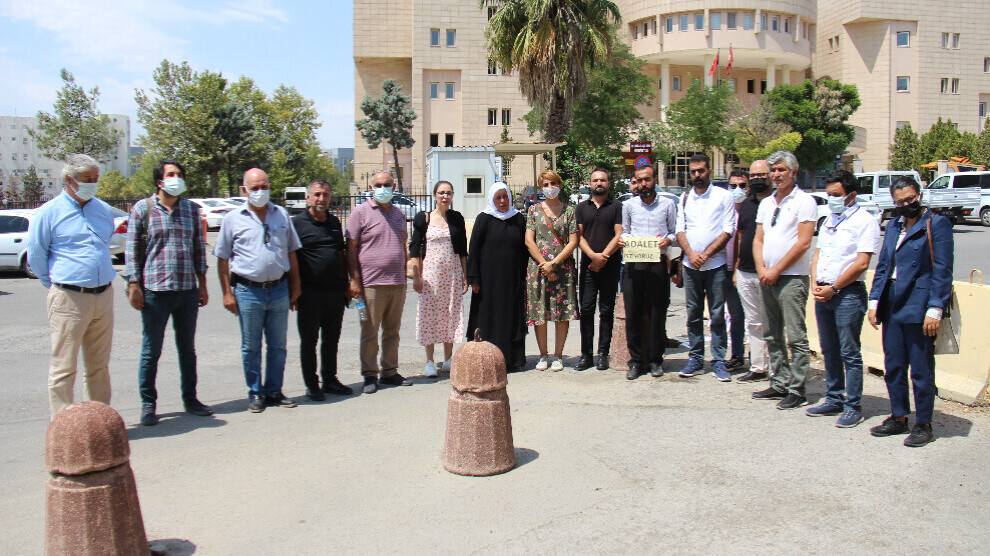 Emine and Ferit Şenyaşar's "vigil for justice" launched on March 9 continues on the 151st day in front of Urfa Courthouse. Emine Şenyaşar had lost her husband and two sons in consequence of the attacks by AKP MP İbrahim Halil Yıldız's bodyguards and relatives, and Ferit Şenyaşar had been injured in the same attack. Emine Şenyaşar, her son Ferit Şenyaşar and Emir Şenyaşar, the 13-year-old son of Celal Şenyaşar, who was killed in the attack, came to the concrete blocks in front of the courthouse early in the morning.
'MASSACRES CONTINUE IN KURDISTAN'
Diyarbakır and Urfa Provincial Coordination Board (IKK) of the TMMOB visited the family in an area called "Senyaşar Family Justice Corner".
"Unfortunately, this is not the first time that rights violations, attacks and massacres are perpetrated in Kurdistan. Based on the current position of the government, it seems that it will not be the last," TMMOB Amed IKK Secretary Doğan Hatun said during the visit.
'JUDICIARY SIDES WITH THE KILLERS'
"The chief prosecutor is tasked with securing justice, not with siding with the murderers. I also call on the Minister of the Interior: A family has been on a vigil for justice for over 150 days. Everyone knows that the perpetrators are AKP members. Although three years have passed, these murderers have not been caught," Hatun said.
CALL FOR SOLIDARITY
"If we leave the family alone today, more massacres will follow. A similar incident happened in Konya province recently. Seven Kurds were murdered by racists. There is also impunity in this case. The government can no longer rule this country nor provide justice. We urge everyone to show solidarity with the Şenyaşar family. The Şenyaşar family is our family," Hatun added.
'SOLIDARITY GIVES US STRENGTH'
Speaking after, Ferit Şenyaşar said: "We have been on vigil in front of the courthouse with my mother, who is over 65, for 151 days. The courthouse has become our second home. We struggle under persecution. We were detained and beaten more than once, but we have never renounced our legitimate struggle. A crime against humanity was committed and three people from my family were killed. The massacre was organized and led by the deputy's elder brother, Celal Yıldız. We want justice."
POLICE INTERVENTION IN THE DELEGATION
Meanwhile, the police wanted to carry out a criminal record check of the TMMOB members visiting the Şenyaşar family. The delegation reacted to the police saying they did not want to show their IDs to the police while they were with the family and went to a cafe near the courthouse for a criminal record check.