MP Tiryaki: Earthquake victims are left to their fate in Pazarcik
Mehmet Rüştü Tiryaki, a member of the HDP delegation conducting investigations in the Pazarcik district of Maraş province, said that search and rescue operations, aid and transportation were very insufficient, and victims were left to their fate.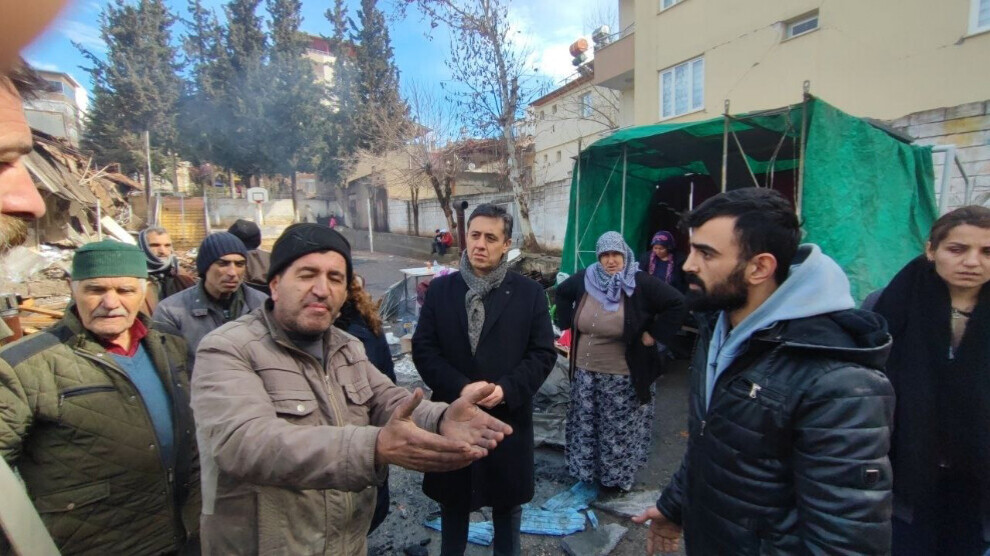 Democratic Regions Party (DBP) Co-Chair Saliha Aydeniz and Peoples' Democratic Party (HDP) deputies Sezai Temelli, Fatma Kurtulan, Mehmet Rüştü Tiryaki, Dilan Dirayet Taşdemir, Zeynel Özen, Mahmut Toğrul and Murat Sarısaç conducted investigations on Tuesday in the Pazarcik distict of Maraş province, the epicentre of the two devastating earthquakes on Monday.
SEARCH AND RESCUE EFFORTS INSUFFICIENT
Speaking to ANF, Mehmet Rüştü Tiryaki stated that search and rescue operations were very limited: "We observed that many buildings were damaged and destroyed in Pazarcik. We even saw citizens who lost their lives under the wreckage of some buildings."
"We also witnessed that volunteer teams carried out search and rescue operations in some buildings. But we observed that they also had limited equipment. There were people from Alanya and Malatya provinces carrying out search and rescue operations."
SERIOUS PROBLEMS WITH SHELTER
Tiryaki also stated that people had serious problems with taking shelter, adding that there were almost no tents:
He continued: "There are also serious problems with regard to taking shelter. Since most of the buildings are damaged, people do not enter the buildings, they remain outside. I can add that there are almost no tents. People stay in barracks and cover themselves with plastic. Moreover, water and electricity have been cut off."
The MP added: "Furthermore, there are serious problems in the distribution of blankets and basic needs for heating. Almost no aid has been sent to most neighbourhoods. We saw people who could only eat a glass of soup. We witnessed that people, associations and institutions are trying to deliver aid by their own means."
'HUNDREDS OF BUILDINGS DESTROYED IN MARAS DOWNTOWN'
"We are in Maras downtown now. Hundreds of buildings have been destroyed completely, and search and rescue operations are carried out in very few buildings. In a large part of the buildings, the citizens are left to their fate. People are trying to help and reach their relatives by their own means. The situation in Elbistan is much more dramatic than this, much worse. Because Elbistan was the epicentre of the second earthquake."
'THERE IS A SERIOUS ORGANIZATIONAL PROBLEM'
Tiryaki commented on the statements of Turkish President Erdogan, who declared a state of emergency in 10 provinces and said that only disaster and emergency management presidency (AFAD) will be allowed to carry out search and rescue operations.
Tiryaki said: "We have not seen any activity from the army. There is such a serious lack of organization here. When it comes to the state of emergency, it is not very convincing that they are reaching everywhere and declare a state of emergency at the same time. In fact, they have reached nowhere. When we passed through the city, local people thought we were government officials and booed us. They said that 'no one is coming to help us'.
There is a serious organizational problem. There is an organizational problem in transportation. There is an organizational problem in the delivery of aids. They also prevent political parties and municipalities from helping survivors. In many places, they stopped fundraising or confiscated the collected money. They also prevented citizens, parties, associations and municipalities from providing help. It is a great injustice that they both prevent aid and not help survivors. They are persecuting them twice."