Second-class refugees in Turkey: Êzidîs
The Êzidîs held in the AFAD camp in Midyat are simply being punished. Subjected to a "second-class refugee" treatment due to their faith, they cannot benefit from healthcare and other rights granted for other refugees.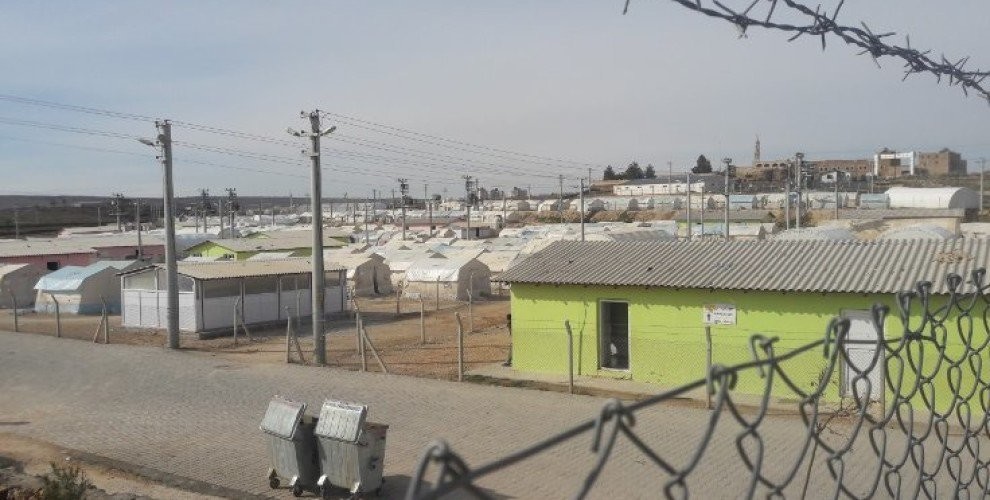 The AKP-ruled Turkish state has accommodated hundreds of thousands of Sunni refugees, provided them with the necessary care and training and created battalions out of them against the Kurds and granted them Turkish citizenship. On the other hand, a handful of Êzidîs hosted by DBP municipalities were forcibly transferred -after the state usurped the municipalities- to the state-run AFAD camp in Mardin's Midyat district where they are being through a kind of imprisonment.
Around 33 thousand Êzidîs came to Turkey following the genocide perpetrated by ISIS in the Êzidî lands in 2014. These were placed in Kurdish cities like Batman, Siirt, Amed, Urfa, Midyat and Nusaybin, hosted by municipalities held by the Democratic Regions' Party (DBP). 7 thousand Êzidîs were settled in the Fidanlık Camp run by the municipality of Amed's Yenişehir district. After the liberation of Shengal, the majority of them returned to their lands while some others migrated to Europe and one group headed to Zakho and Duhok.
RELOCATED BY THE TRUSTEES
At the end 1029 persons remained in the Fidanlik camp. The state did not provide any help whatsoever to them. Financial and moral support was only provided by the metropolitian municipality of Amed and the municipality of Yenîşehîr held by the DBP, staying with those families and taking care of them 24 hours a day in a rare case of solidarity. The Êzidîs staying there could freely perform their religious services and traditions. Their children were provided education about their culture and religion. Different workshops for women enabled them to take part in production. They could even work on gardening with the support of the municipality.Psychological treatment was also provided to them.
After the DBP municipalities were seized by state-appointed trustees, it was like the Êzidîs were also left to the hands of trustees. Support for them was suspended, the state started to rule on the camp and eventually subjected them to a forced transfer to the state-run AFAD camp in Midyat.
THEIR PROBLEMS INCREASED EVEN MORE
In the camp run by the state's Disaster and Emergency Management (AFAD) in Mardin's Midyat district the problems of the Êzidîs are growing daily. The Êzidîs have been forced to stay in the camp with persons of ISIS mentality. In this manner they get punished because they are permanently harassed and seen as second-class refugees due to their religious identity. They are denied the same rights which are given to the other refugees.
RESTRICTED ACCESS TO THE MARKET
Only two days in a week (Monday and Tuesday) are the Êzidîs allowed to go to the market place to meet their needs. Early in the morning hours they get on minibuses and go from the camp to the district center. Depending on their possibilities they buy things mainly for the children. Except for these two days they are not allowed to get out of the camp.
VISITS ARE NOT ALLOWED
Parliamentarians and delegations have many times filed an appeal requesting access to the camp but AFAD would not answer any of these requests, either positive or negative.
DISCRIMINATION IN THE HEALTH SERVICE
Unlike the Syrian refugees staying in the same camp, Êzidîs can hardly benefit from any health service. For examination and access to medication, they are forced to pay for 20 percent of the costs. Therefore many families are unable to visit a doctor due to financial difficulty.
ILL CHILDREN CANNOT UNDERGO SURGERY
In this unhygienic camp children and babies often fall ill. An eight year old child in this camp could not have a medical operation because the family cannot afford the treatment.
FOR MOSLEMS IT IS FREE OF CHARGE
N.A., an Êzidî of 44 years old who is staying at the camp stated that they cannot move freely in the camp and that they are treated as second class, saying: "We suffer especially from health issues.The children and babies are permanently falling ill. There is no hygiene or cleaning. The food given to us is very poor. When we fall ill we first of all go to a translator who creates problems and causes obstructions for us. And when we happen to visit a doctor we are not able to make our situation clear. Our little children are ill all the time. There are some whose conditions are critical. For access to medicines, the Moslems do not have to pay for anything, but from us they demand the 20 percent of the costs. Money is necessary for treatment in hospitals and other services, but we cannot afford these. For the Moslems it is free of charge but from us they demand money. Why would we stay here anyway, if we had any money? Here they are constantly putting us under pressure. The persons in charge are treating us as if we were diseased."
"WE ARE CONCERNED FOR OUR CHILDREN"
Ş.Xidir who is 56 years old expressed that the camp personnel are putting psychological pressure let alone helping them, telling that: "Thanks to some people in Midyat some money has been collected and the child has been operated on twice. Money has also been collected for the medicine, but nonetheless one more surgery is required. That means money is again necessary. The sick ones are not only this child, but all the children here. So for which one of them will money be collected? Our biggest concern are our little children. Because we cannot provide well for them and they are in bad conditions and circumstances, they get sick all the time. They intend to wipe out the entire generation of ours."
DIFFICULTIES FOR RELIGIOUS SERVICES
On top of all problems, the Êzidîs in the camp are facing difficulties to perform their religious services in the camp conditions. Êzidîs keep quiet about their problems as their biggest fear is to be thrown out of the camp.