Saturday Mothers: We won't give up our search for justice
The Saturday Mothers were once again prevented from meeting in Galatasaray Square, traditional place of their action.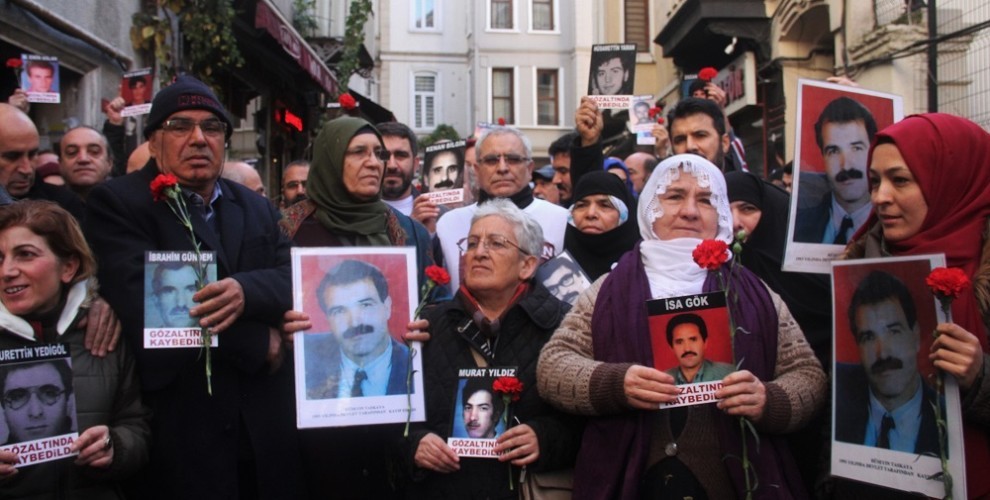 Meeting for the 715th week to demand justice and the truth about the disappeared people while in state forces custody, the Mothers had to stage their sit-in in front of the Human Rights Association (İHD) Istanbul Branch, as streets leading to Galatasary Square had been blocked by police.
This week's action demanded the fate of Hüseyin Taşkaya who disappeared on 6 December 1993 after being detained in Bağlar neighborhood, Siverek (Urfa).
Hüseyin Taşkaya's nephew, Sürgün Taşkaya, read the statement for the week.
Taşkaya said: "The fate of those who died in police custody because of the lack in Turkey of a judicial system complying with the requirements of a democratic society cannot be established so that justice is done."
Reminding that police have once again prevented the Mothers from meeting in Galatasaray Taşkaya added: "These violations to the Constitution, are contrary to international conventions to which Turkey is a party. This is an attack on the essence of our fundamental rights and freedoms and democratic values."
This week's story
Taşkaya told the story of his uncle, his disappearance and the family's struggle for justice.
"Hussein Taşkaya, a 42-year-old father of four, was a contractor in Siverek, which was entirely dominated by the Bucak tribe. On 6 December 1993 the soldiers, police officers and village guards from the Bucak tribe raided the house of Mehmet Taşkaya in the Baglar district of Siverek. They got there with a convoy of thirty vehicles."
When the family went to ask to the governor's office about the fate of Hüseyin Taşkaya, they were told 'he was Sedat Bucak's business'.
Sedat Bucak's people confirmed that they had detained Taşkaya, but no news was heard about him after that.
Fatime Taşkaya, who went to the Siverek District Police Department in the hope of receiving information about her son, was told to leave the city altogether with her other sons if she wanted to avoid further problems.
All applications of the family were inconclusive. Hüseyin Taşkaya had disappeared and no news were learned about him.
Fatime Taşkaya passed away on 17 October 2015, without having been able to know what had happened to her son, despite her life being spent looking for him.
"The perpetrators involved in the case file were not rewarded until today and were rewarded with impunity", said Taşkaya's nephew.
At the end of the statement, Taşkaya reiterated that "the search for truth and demand for justice won't end."
25 years looking for my father
Taşkaya's wife, Sultan Taşkaya also said a few words. "We won't give up our struggle - she said - until we reach justice and truth."
Hüseyin Taşkaya's daughter Serpil Taşkaya said that she was 7 years old when she lost her father and added: "I have been looking for my father for 25 years. Galatasaray Square is the place where the story of the children of the disappeared have begun. For us Galatasaray is like a grave."