Saturday Mothers: We won't give up
The Saturday Mothers gathered once more in Galatasaray Square, in Istanbul.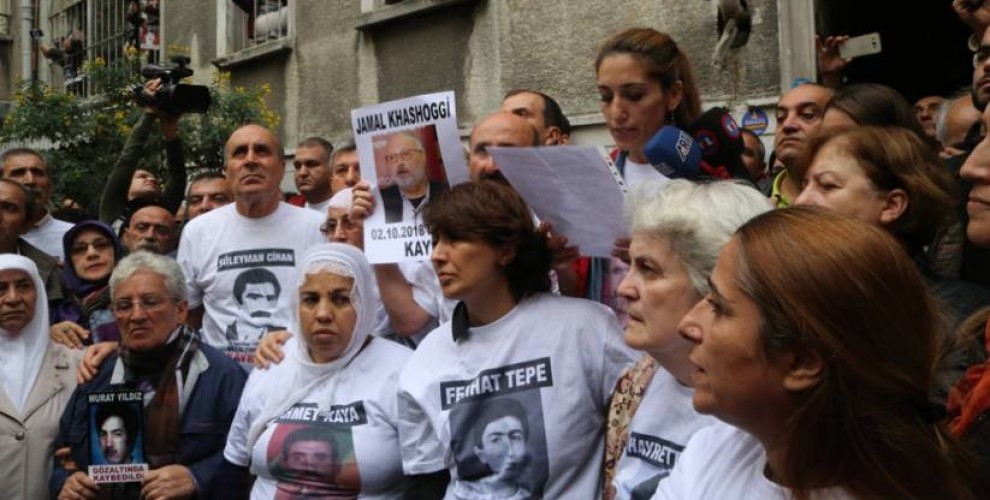 Today was week 707 the Mothers gathered to demand justice and the truth about the fate of the disappeared people. 
A large crowd joined the Mothers around Çukurluçeşme Street in front of the IHD building this week. HDP Deputies Huda Kaya, Garo Paylan were joined by DISK President Arzu Çerkezoglu, KESK President Mehmet Bozgeyik, electricty, TTB, Limter-President Kamber Saygılı, 78' Initiative Turkey Spokesman Celalettin Can.
Despite the obstacle to make the action, Fehim Tosun's daughter, Besna Tosun, read the weekly statement issued by the Mothers. This week they demanded justice for Abdulkerim Yurtseven, Miktat Özeken, Münür Sarıtaş, who disappeared after being taken into custody in Gever on 27 October 1995. 
Tosun emphasized the lack of a proper and impartial judicial system in Turkey. This was highlighted by the fact that for the past 8 weeks the Saturday Mothers have been forced to stage their peaceful civil disobedience action amid great pressures and repression.