Saturday Mothers: We demand justice for everyone
In the 640th week of the Saturday Mother's vigil, they asked about the fate of Huseyin Ertas who disappeared on the 8 July 1995 under custody and gave the message "We demand justice for everyone."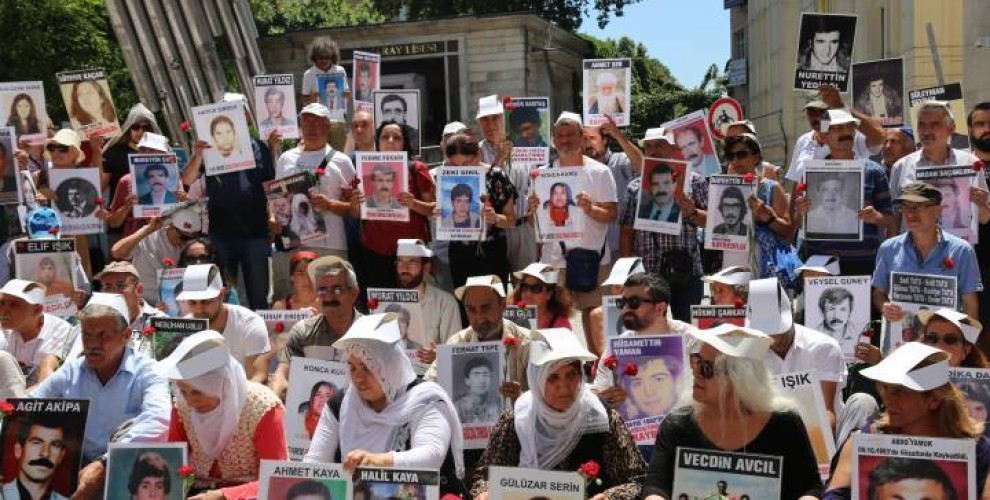 Saturday Mothers gathered in the 640th week of their vigil asking about the aftermath of their disappeared relatives and demanding the trial of perpetrators, at Istanbul's Galatasaray Square. Like every week the mothers once again placed white scarves and roses on the large white banner reading "The perpetrators are known, where are the disappeared?"
In this week's vigil the Saturday Mothers asked about the fate of Hüseyin Ertaş who was 45 years old when was taken into custody by four persons in Mardin's Kızıltepe district and whose body was later founded in Urfa's Ceylanpınar district, and demanded the end of the impunity given on this case.
Emine Kaya, daughter of Ahmet Kaya who disappeared under custody on 12 January 1996, also held a speech at the vigil. She pointed out that they ask for justice at the Galatasaray Square for 20 years now and continued: "Nobody has heard our voices. But we still demand justice for everyone."
"JUSTICE IS EMBEDDED IN FREEDOM"
One of the Saturday Mothers Derya Gazioğlu said that they want everyone to enjoy justice and drew the attention on the grave situation of jailed educators Semih Özakça and Nuriye Gülmen who are on hunger strike for 115 days. Gazioglu described the restriction on the rights of Semih Özakça and Nuriye Gülmen as unlawful and demanded this oppression be stopped.
THE STORY OF ERTAŞ
Gazioğlu talked about Huseyin Ertaş and stated that Turkish soldiers would come and ask about his whereabouts before he was eventually abducted by four persons on 8 July 1995, saying: "Ertaş resisted against those who wanted to take him to the military base, they pulled a gun to his head and pushed him by force into a white Toros (civilian police car), taking him with them. One of those persons who stormed the house was Ismet Kandemir, a village guard and friend of the Gendarme Commander Hasan Atilla Uğur. He was at the same time member of the "Bıçak team" (Knife Team)." Gazioğlu affirmed that members of that team were abducting civilians and have them disappear en masse.
Gazioğlu pointed out that Ertaş' wife disclosed that among those who came and abducted him were also the village guards Memduh Kandemir, Ismet Kandemir and Avdo Kulva. His wife filed a suit to the chief public prosecutor in Kızıltepe, Gazioğlu said and continued: "Hüseyin Ertaş was arrested in his home on the order of Hasan Attila Uğur, taken away and killed. His family has filed a complaint against İsmet Kandemir and Abdurrahman Kurga. But 22 years have passed without any justice having prevailed in the case of Ertaş. The murderers are well known and they have to be called to account."