Saturday Mothers protesting against banning of their action
The Saturday Mothers tried to go to Galatasaray square for the 701st week of action for the disappeared people, but found all roads closed with barriers by police.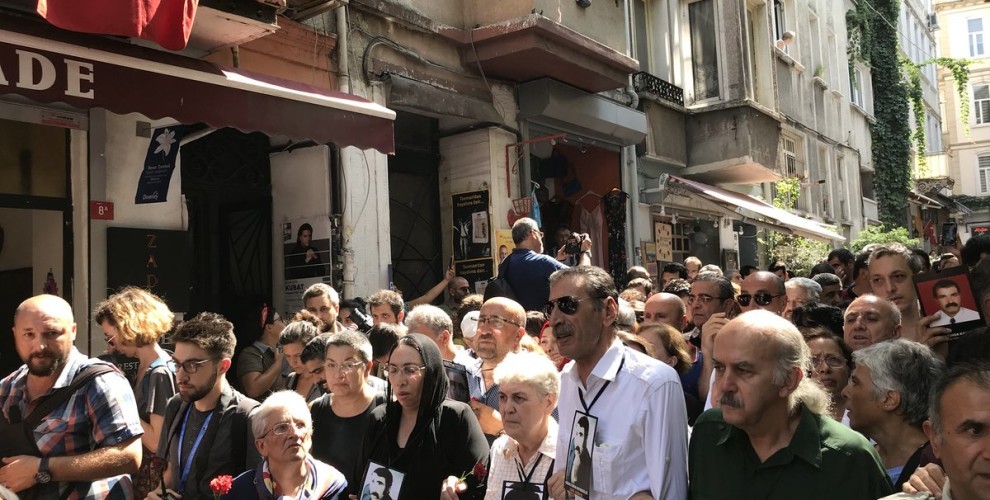 The Mothers were accompanied by members of the Democratic Congress of Peoples (HDK) Gülistan Kılıç Koçyiğit, HDP deputies Garo Paylan Saruhan Oluç, Erkan Baş, Züleyha Gülüm, Hüda Kaya, Serpil Kemalbay, Murat Çepni and the Republican People's Party (CHP) deputies Ali Seker, Sezgin Tanrıkulu, IHD co-chair Öztürk Türkdoğan, Rakel and Arat Dink, wife and son of Hrant Dink, the editor-in-chief of Agos Newspaper, Hrant Dink, murdered in Istanbul.
All roads and alleys including Istiklal Caddesi were closed by security forces which used TOMA and armoured vehicles to block the roads. 
In Galatasaray alone, for TOMA and more than 10 detention vehicles were stationing. Hundreds of police have been deployed in Istiklal Caddesi.
The Saturday Mothers were attacked by police on their 700th week of action. An attack which exposed the real face of the AKP regime. Dozens of mothers and demonstrators were taken into custody.
The Saturday Mothers have been gathering since 1995 to demand justice and the truth about their beloved ones who disappeared while in state forces custody.