Saturday Mothers met for 726th time in Istanbul
The Saturday Mothers, who have been demanding truth and justice for their relatives and friends who disappeared while in State forces' custody met for the 726th time in Istanbul.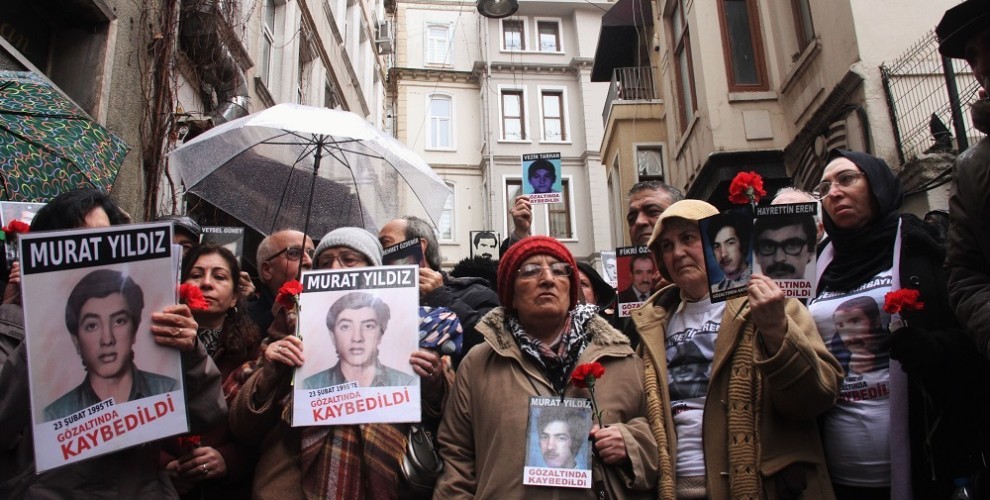 The Saturday Mothers have been meeting for 23 years in Galatasaray Square, which was forbidden to them on week 700. Yet the Mothers did not give in and every Saturday since the ban have been meeting in front of the HDP building, a few streets away from Galatasaray.
This week HDP deputies Huda Kaya, Zeynel Özen, CHP deputy Sezgin Tanrıkulu, cinema artist Nur Sürer and many democratic civil society organizations and political party representatives joined the action.
Photographs and pictures of those who disappeared while in State forces custody were held by activists while the story of Murat Yildiz was told.
Murat disappeared while under police custody 24 years ago.
Sebla Arcan, member of the Commission against disappearances in custody, read the Mothers' statement this week.
She began by paying tribute to mother Berfo Kırbayır who lost her life on 21 February 2013.
Arcan reminded that for 27 weeks the Mothers have been forced to make their sit-in in a place different from Galatasaray. "They took away from us our space - she said - adding new violations to the many violations we are already exposed to."
The story of Murat Yildiz
Sebla Arcan said: "19-year-old Murat Yildiz lived with his mother in Izmir. While sitting in a cafe, an accident occurred and fires were shot in the air. He left the scene and was therefore sought by the police.
Police officers brought his mother Hanife to the police station and told her: "If Murat comes here and gives a statement he will be released immediately." On 23 February 1995 Murat Yıldız, together with his lawyer, cousin and mother, surrendered to the Public Security Department of Izmir Bornova Ozkanlar and to Commissaire Ramazan Kaya and police officer Tahir Şerbetçi.
Three days passed and Hanife Yildiz went to the Asayis branch of Bornova Ozkanlar to ask about her son, but could not get a proper answer.
As Hanife insisted, the police officers told her that Murat had confessed to hiding the gun in Kartal, Istanbul. They claimed that they had sent him to Istanbul but that, once on the ferry, Murat jumped in the sea and fled.
Hanife Yildiz said: "My son voluntarily surrendered. Why would he escape if he had not been accused of any crime?"
No one has heard any news about Murat, the only child of Hanife Yildiz, since that day."
Arcan then went through the calvary of Hanife Yildiz, who never gave up searching for her son.
The trial at Gebze 2nd Criminal Court of First Instance lasted 5 years and accepted that Murat had jumped from the ferry despite no witnesses found, except from the police officers with him.
The court found the officers guilty of negligence.
IHD lawyer Gülseren Yoleri appealed to the Gebze Chief Public Prosecutor's Office in 2015 and demanded the re-investigation of the case of Murat Yildiz.
After two years the request was rejected and the case was moved to the Constitutional Court. Hanife Yildiz tried all legal possibilities, searched for her son everywhere but so far no proper investigation and trial have been ordered.
Murat Yildiz's mother Hanife stressed that her son's right to life had been violated as was violated her right to maternity when Murat was taken from her. She met with the Saturday Mothers and became one. And since then she has been fighting to ensure justice is done and truth is told for her son and for the many hundreds of other mothers' sons and daughters.