Saturday Mothers laid red carnations in Galatasaray Square
"This square is where we unite with our disappeared relatives. It is the conscience of this country. We will not leave this square."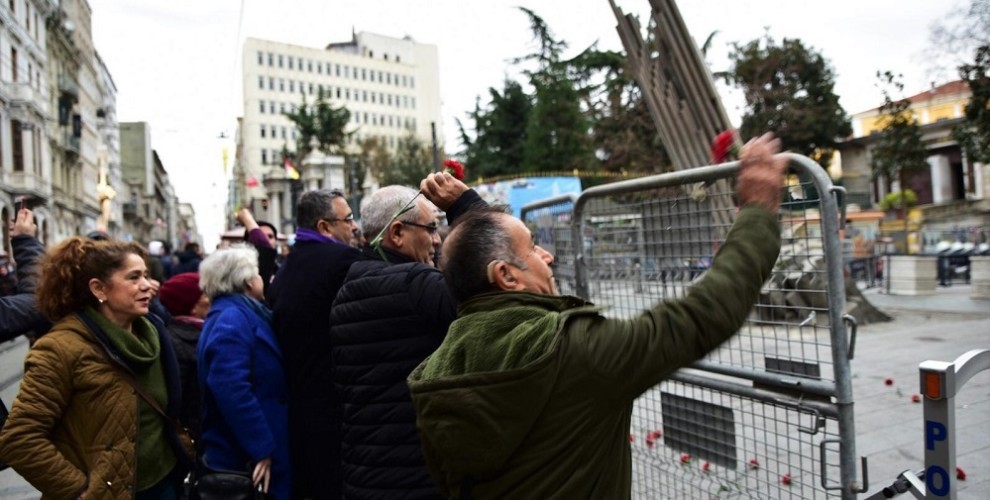 On the first day of 2019, the Saturday Mothers laid red carnations in Galatasaray Square which has been under police blockade and banned for the mothers since the 700th week of their traditional sit-in to demand justice and the truth for the disappeared people while in state forces custody.
The Saturday Mothers have been struggling for 23 years demanding truth and justice for the hundreds of people who disappeared while in state forces custody. The Mothers demand the perpetrators be taken to justice.
On the first day of 2019 the Saturday Mothers were in Galatasaray Square, the 'banned' square, to remind that they won't give up their quest for justice.
A loudspeaker from the CHP Beyoğlu District building played the song "Beni Bul Anne" ("Found me, mum"), a song by late Kurdish artist Ahmet Kaya. HDP deputy Oya Ersoy and CHP Deputy Sezgin Tanrikulu stood beside the Mothers who laid red carnations in the Square.
Hanife Yıldız, the mother of Murat Yıldız who disappeared while in custody, said: "We will open Galatasaray Square sooner rather than later."
Iqbal Eren said: "This square is where we unite with our disappeared relatives. It is the conscience of this country. We will not leave this square."
The carnations laid by the Saturday Mothers were then removed by the police.