Saturday Mothers demand justice for Ayşenur Şimşek
At their 826th vigil against "disappearances" in custody, the Saturday Mothers addressed the fate of Ayşenur Şimşek. The 27-year-old trade unionist was abducted, tortured and murdered by counter-guerrillas in 1995.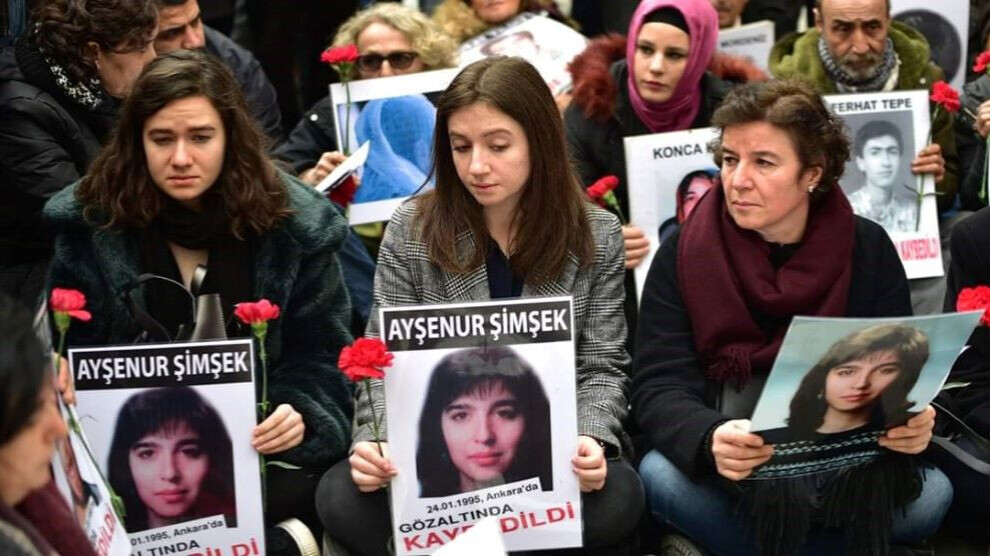 For the 826th time, the Saturday Mothers Initiative has come together to denounce the state practice of "disappearances" and demand justice for the victims. The theme of this week's vigil, which was held virtually due to the pandemic, was the fate of Ayşenur Şimşek, founder and chairwoman of the Ankara branch of the Health Care Union (Sağlık-Sen). The 27-year-old was abducted, tortured and shot dead by counter-guerrillas in Ankara on January 24, 1995. Her killers are still free.
Ayşenur Şimşek's story was told by her sister Fatma Şimşek who said the following: "About a month before my sister's abduction, my father was summoned to the police station. The officers suggested to him that it would be better for Ayşenur if she turned herself in. Otherwise, things would not end well for her." The pharmacist, who was born in 1968, had an arrest warrant out for her at the time of her disappearance, as Ayşenur Şimşek had been involved in organizing the labor movement since the early 1990s. Specifically, she was concerned with mobilizing workers from the health sector. The military coup in September 1980 had been a turning point for the left in Turkey and thus for the trade unions; all structures were smashed. The revival of the workers' movement did not begin until the second half of the 1980s.
Previously arrested and tortured
Ayşenur Şimşek quickly became the target of the Turkish state apparatus because of her efforts to expand trade union structures in Ankara. She was arrested twice and severely tortured in custody, and she was threatened with death several times. Nevertheless, she was not dissuaded from her struggle. "She was a revolutionary, a resistance fighter," said Ayşenur Şimşek's sister. Therefore, after her abduction, despite all the efforts of her family and abundant requests made, there was no indication of her whereabouts from the official side. The security authorities did not even acknowledge her arrest.
Buried in "cemetery of the nameless"
On January 28, 1995, four days after the abduction, Ayşenur Şimşek's disfigured body was found on a roadside in Kırıkkale, about a hundred kilometers from Ankara. However, the authorities buried it in a "cemetery of the nameless," although her identity could have been established. Ayşenur Şimşek had been required to provide fingerprints when she was first arrested as part of an identification procedure. Three months after her violent death, a short news item suddenly appeared in the Turkish daily newspaper "Milliyet," talking about the discovery of a woman's body in Kırıkkale. Just a coincidence?
Newspaper report published only after public search operation
A few weeks earlier, Şimşek's relatives had given the go-ahead for a nationwide search operation as part of a press release. At that time, family members of Hasan Ocak also participated in the initiative. The Kurdish teacher from Dersim had been left missing in Istanbul on March 21, 1995. His body turned up almost two months later in an anonymous grave: Only 30 years old, he died as a result of torture. On May 27, 1995, his family, along with lawyers, staged a sit-in in Istanbul's Galatasaray Square to demand justice for Hasan Ocak. It was the first Saturday Mothers' vigil and was to become the longest-running act of civil disobedience in Turkey.
No Forgiveness, No Forgetting
According to the Milliyet report, Ayşenur Şimşek's parents turned to the public prosecutor's office in Kırıkkale. There they learned that the "unknown dead" was indeed their missing daughter. However, the condition of her body represented a new stage in the policy of disappearances. Hüseyin Ocak recalls, "Ayşenur's body was in a terrible condition. She had been shot at close range." The autopsy report stated that bullet holes were found in her head, chest and chin. In addition, her body showed numerous traces of torture."
"Almost 26 years have passed since Ayşenur was found. And since then we have been demanding justice," said Hüseyin Ocak. "Justice for Ayşenur, for my brother and for the many others who were left missing. We will not forget the injustice. And we will not forgive."