Saturday Mothers ask for the whereabouts of the disappeared
The Saturday Mothers in Istanbul have asked for the whereabouts of six people who were abducted in February in connection with the attempted military coup in Turkey.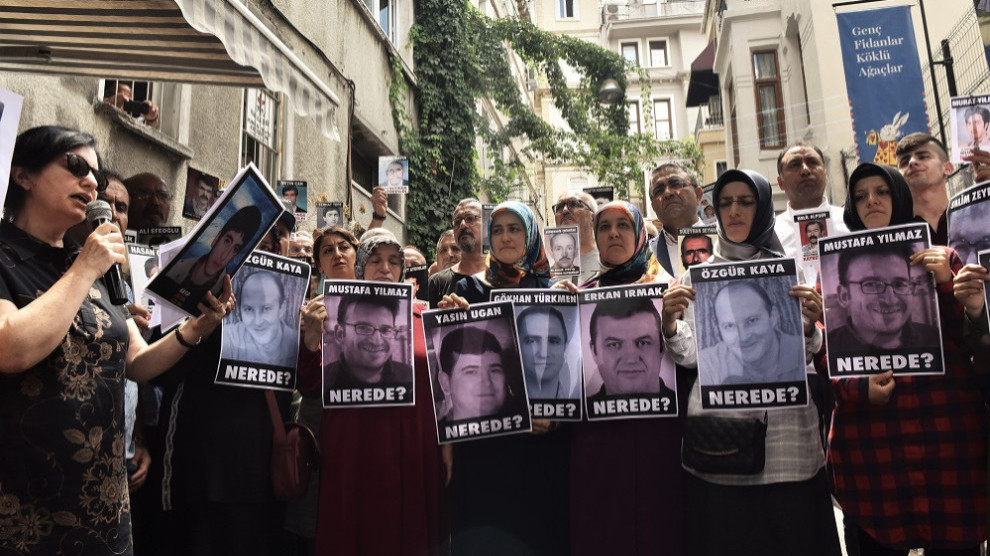 For years, the Saturday Mothers in Istanbul have been fighting for the investigation of the cases of their relatives who disappeared after their arrest by state forces, and have been calling for a punishment of the perpetrators. Today they took to the street for the 745th time. Their traditional rally site on Galatasaray Square has been closed by the police every Saturday since last year, so the members of the initiative and their supporters gathered in front of the Human Rights Association (IHD) building in a side street of Istiklal Avenue. The rally, which as usual could only take place under a police blockade, was attended by Ali Kenanoğlu (HDP) and Sezgin Tanrıkulu (CHP), among others.
Topic of today's action were missing person cases from this year. In February 2019, six people were abducted and since then disappeared without a trace despite intensive search of their relatives. According to witnesses, those affected were forcibly abducted.
Gökhan Türkmen
Gökhan Türkmen was removed from the civil service after the attempted military coup of 15 July 2016. On 9 August 2016, his home in Ankara was searched by the police in his absence. His wife was informed that he was being searched for. During the search, six to seven members of a special police unit arrived, who also searched for Gökhan Türkmen. Türkmen did not return to his apartment, but kept in touch with his family by telephone. On February 2, he told his mother over the phone that the family should report if he did not answer for a week. On February 7, he left his father's apartment in Antalya and has since disappeared without a trace.
Yasin Ugan and Özgür Kaya
Yasin Ugan and Özgür Kaya were also searched by the police in connection with the attempted military coup and they could not return to their homes. Instead, they rented an apartment together in Ankara. On February 13, 2019, the door was broken open by armed people who called themselves policemen. Ugan and Kaya were handcuffed behind their backs, black bags were pulled over their heads. They were transported by a white minibus. Since then there is no trace of them anymore.
Erkan Irmak
Teacher Erkan Irmak lived in Istanbul and had to leave his family home because he was being searched for. From time to time he went to visit his family. After one of these visits on February 16, 2019, he left the apartment at 11 pm. His wife watched from the window that Irmak was being abducted by three people. The family filed a complaint, but to this day his whereabouts are unclear.
Mustafa Yılmaz
33-year-old physiotherapist Mustafa Yılmaz lived in Ankara and was arrested in October 2018 for alleged proximity to the Gülen community. He was sentenced to six years' imprisonment in January 2019, but was initially released because of his objection. On February 19, 2019, he went to work and has since disappeared without a trace. Shots from a surveillance camera show that he was forcibly dragged into a black van.
Salim Zeybek
Salim Zeybek lived in Ankara and was removed from public service by a decree. As he faced a most probable arrest warrant, he left home and kept only telephone contact with his wife. On February 21, 2019, he met with his wife and children in Istanbul. The vehicle in which the family was driving was stopped by armed civilians claiming to be plainclothes policemen. Salim Zeybek was separated from his family. As his wife and children were brought back to Ankara, the license plate of the vehicle was replaced several times on the way. Before the woman was let go, the armed people said to her, "We are the state, do not go to the police or prosecutor. Listen to us, sooner or later we will let you see your husband. First of all, he has to go through our hands." Since then, Salim Zeybek has disappeared without a trace.