Relatives of the Disappeared commended Leyla Güven
The search for justice continues for the victims of unidentified murders.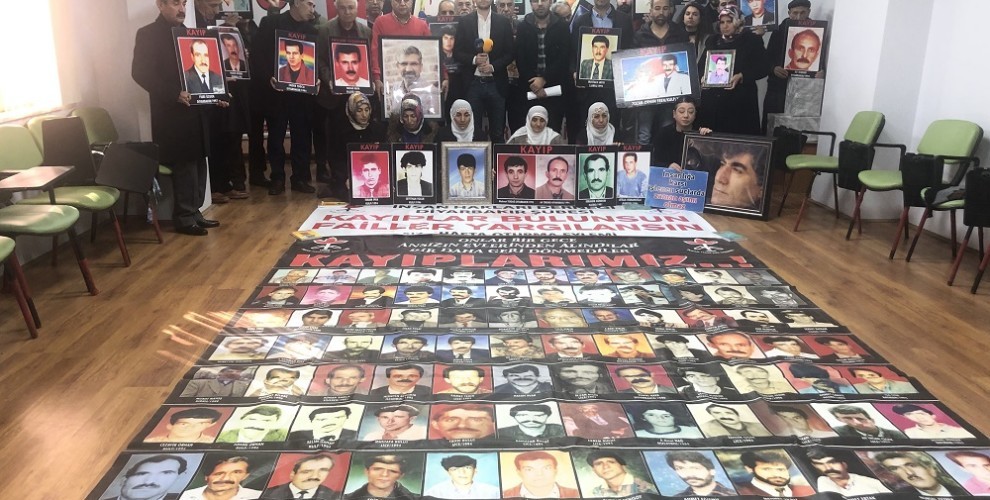 The relatives of the disappeared and human rights defenders demanded justice and truth in Amed and Batman.
At these week's actions the isolation imposed on Abdullah Öcalan was condemned and the resistance of Leyla Güven was saluted.
Amed
Human Rights Association (IHD) Amed Branch and relatives of the disappeared while in State forces custody, gathered under the slogan "Find the disappeared, put the perpetrators on trial". They staged their 517th sit-in action in the building of the association.
IHD Representative Abdüsselam İnce Ören, IHD executive Mehmet Raci Bilici, CHP Diyarbakır Provincial Chairman Mehmet Sayın also joined the action.
This week, truth and justice were asked for Yavuz Kayran, who disappeared in 1995, after allegedly having fled from the first Border Battalion. No news has been learned about his fate since that day.
IHD Branch President Abdullah Zeytun, in his speech, underlined the isolation implemented in Imrali and the hunger strike by HDP Hakkari MP. "Isolation is contrary to international law. In Turkey's prisons at the moment hundreds of people on hunger strike. We as IHD, are closely monitoring their health and prison conditions. Leyla Güven, who launched the hunger strike, is now on the 59th day and her health conditions are deteriorating quickly. The demands of the hunger strike must be fulfilled."
The story of Yavuz Kayran
Hasan Yalçın, Branch Manager of the IHD shared the story of Yavuz Kayran, who had allegedly fled from Kilis 1st Border Battalion in 1995 and never heard from him.
Yalçın quoted Kayran's brother, Aydın Kayran, as saying:
"My brother Yavuz Kayran was doing his military service at Kilis 1st Border Battalion. We are from the village of Topsakal, Gürpınar (Van). I was living in Antep at that time. My brother, every time he came to visit me, was telling me about how a commander was hating him. He told me later that a soldier had tried to kill him. Three months before my brother ended his military service, soldiers raided our house. They told me my brother had escaped with his gun and they took me into custody. I was in custody for a week and was tortured. Then they freed me. After being released I went to see my brothers' friends. His friends told me that on the same day and hours as my brother Yavuz disappeared, the company commander was on leave. And my brother's friends also told me that my brother had been threatened by a soldier.
20 days after the incident, a man's body was found in that area, and we went there and started to look for it in the surrounding villages. We went to a village during the search. The guards said they knew my brother. The soldiers who heard we were going there came to the village and took us out of the village. The soldiers didn't let us identify the body and they threatened us. We don't believe that my brother fled the battalion. We believe that my brother was killed and that the commanders had knowledge of it. They didn't even give us his body. We haven't heard from my brother for years."
Batman
Under the leadership of the IHD Batman Branch, the 423rd weekly action of the families of the disappeared was held. Relatives of the disappeared while in State forces' custody were present at the action together with HDP Batman deputies Ayse Acar Basaran and Necdet Ipekyuz.
HDP Batman deputy Ayse Acar Basaran talked about Sêvê Demir, member of the Party of Democratic Regions (DBP), who was murdered on 4 January 2016 in Silopi district of Şırnak.
Ercan Başar, IHD Batman Branch executive, stated that "513 murders by unknown perpetrators were committed in Batman and 14 of them were still missing. In 1992-93 there was a serious increase in unsolved murders. In 1992 there were 86 murders by unknown perpetrators, in 1993, 153 and in 1994, 193. The murders occurred during this period, included children, women and Kurdish politicians. Most murders were committed in the city center during the daytime."
Başar talked about Mehmet Güler, who disappeared in Batman on 1 December 1997. He was one of the 513 people who were murdered by unknown perpetrators. Şefika Güler, Mehmet's mother told the IHD:
"My son Mehmet was born in 1973, he was 24 years old. In the morning of the disappearance, he had gone to the Ihlas Cargo office, and with chauffeur to Batman. That day he disappeared.