Relatives of prisoners on hunger strike rally for solidarity
In Turkey and northern Kurdistan, relatives of prisoners take to the streets to draw attention to the hunger strikes against the isolation of Abdullah Öcalan. In Izmir, police have forbidden the demonstrators to pronounce the word "isolation".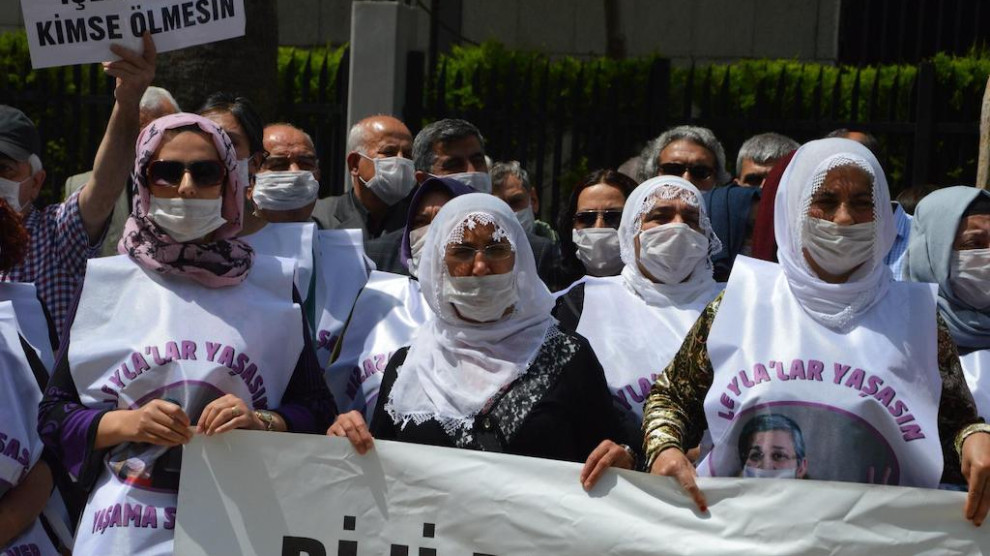 In Kocaeli, Izmir and Urfa relatives of prisoners took to the streets to draw attention to the hunger strike resistance against the isolation of the Kurdish People's Leader Abdullah Öcalan.
Gebze
A rally outside the prison in Gebze in the western Turkish province of Kocaeli has again been prevented by the police. Relatives of prisoners have tried every day since 9 April to go to prison to voice their support for the hunger strike. Also today, they were faced with a police blockade, whereupon they dispersed on side streets and met again for a sit-in in front of the prison. There they were attacked by the police, several older women were forcibly dragged on the floor.
İzmir
In the district of Konak in Izmir, Peoples Democratic Party (HDP) and TUHAY-DER, an association for the rights of prisoners, promoted a demonstration which was also participated by HDP deputy Serpil Kemalbay. The group was immediately surrounded by the police and the police threatened to attack the crowd in the event that the word "isolation" was pronounced.
Suruç
In Suruç district of Urfa, relatives of prisoners started a vigil at the HDP district office amid a siege by the police. The demonstration was joined by many people including HDP MP Ayşe Sürücü and members of Peace Mothers Suruç Council. The activists said the vigil would continue until they achieved a result.
Ankara
Women gathered at the Kuğulu Park in central Ankara and formed a human chain to draw attention to the hunger strikes demanding the end of the isolation of Öcalan.
A statement made on behalf of the demonstrators said; "Our lives are under isolation. The country is under isolation. Thousands of political prisoners have been on indefinite hunger strike for days. Leyla Güven's fast has reached day 171. Leyla Güven, a member of the parliament, demands that Turkey complies with the Constitution and laws. If we remain silent, we will be a mere spectator to deaths."