Refugee woman attacked by racist neighbours and insulted by the police
The Istanbul Branch of the Human Rights Association denounced that a refugee woman was first attacked by neighbours and later insulted at a police station in Istanbul.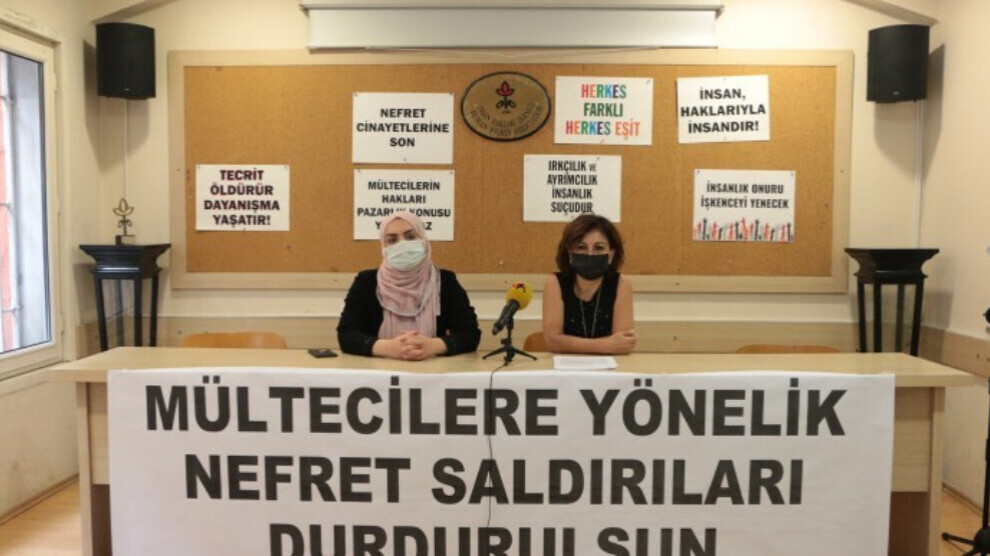 The Istanbul Branch of the Human Rights Association (IHD) made a press statement at its headquarter about a refugee named F.S who was subjected to racist, discriminatory and marginalizing behaviours by her neighbours and police officers. A banner reading "Stop the hate attacks against refugees" was displayed in the office where the press statement was made. Refugee F.S. also attended the event.
IHD Istanbul Branch head Gülseren Yoleri uncovered that there has been a significant increase in attacks against refugees, attributing the increase to the statements made by the rulers and politicians in the country.
Yoleri said that refugees in Turkey are not treated from a rights-oriented point of view. "Unfortunately, there is a lack of policies that enable refugees to have the right to a decent life in this country. Discourses against refugees with discriminatory, exclusionary and marginalizing language are piling up day by day. Many political parties are trying to gather votes through discriminatory rhetoric. All the rights of refugees, including the right to life, are violated."
Speaking in Arabic, F.S. talked about her experiences. Accordingly, F.S. has been living in Istanbul for about 4 months. The woman was physically attacked by a neighbour who lives in the same building on September 1. Other neighbours were also involved in the racist attack, after which F.S. went to a hospital and received a medical report. She later went to a police station and filed a complaint, but she was subjected to mistreatment at the police station as well.
'I WAS INSULTED AND THREATENED'
"They did not receive my complaint at the police station for a long time, they made me wait. An officer shouted and insulted me while the complaint was received. I was treated as if I was a criminal. After I went to the police station and complained, the attacks increased. I am constantly threatened. I have 3 children and the eldest one is 11 years old. Since the children are very young, they are negatively affected by the incident. I ask for legal and medical support. We need public support to prevent such attacks," F.S. explained.