Protests against the isolation of Öcalan grow in Rojava
Rojava citizens and representatives from institutions protested the isolation against Kurdish People's Leader Abdullah Öcalan and called on international human rights organizations to fulfill their duties.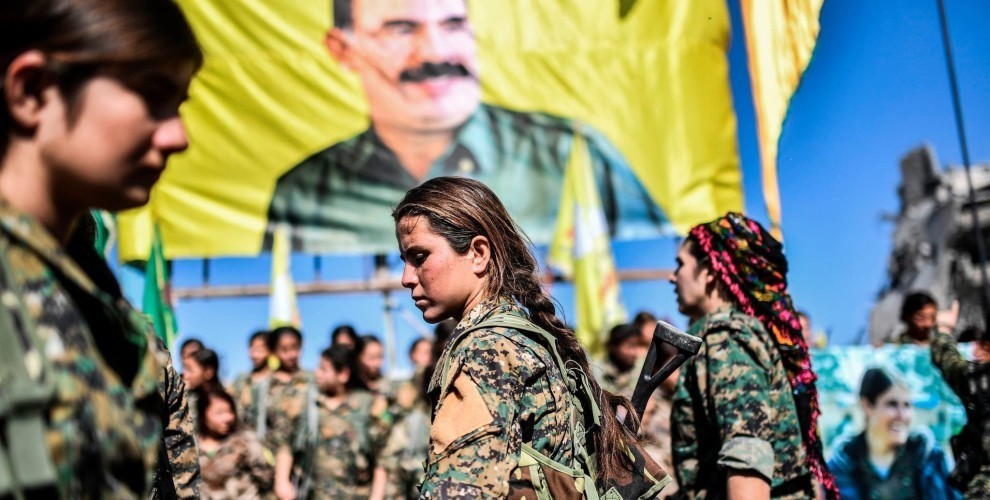 The isolation imposed upon Kurdish People's Leader Abdullah Öcalan is met with huge protests in Rojava, as people of Rojava say the democratic revolution they built in the midst of the civil war in Syria is the product of Öcalan's ideology and struggle.
Qamishlo Kongreya Star Xarbi Neighborhood Representative Feryal Omar stressed that the European Court of Human Rights (ECHR), which claims to dole out justice, should fulfill its duty at once.
Omar pointed out that the greatest effort in the Kurdish people becoming who they are today has been by Kurdish People's Leader Abdullah Öcalan and said: "If it really is a court of human rights, it must recognize the tyranny imposed upon our leader."
"ÖCALAN REPRESENTS MILLIONS OF KURDS"
Syriac shopkeeper in Qamishlo Hanna Konstantin said Öcalan has been in Imrali for the last 20 years and hasn't been heard from in 3 years. Konstantin also called on international human rights institutions to fulfill their responsibilities.
Konstantin said the isolation must end at once, and continued: "This is our demand for persons who could intervene with this matter that they contact Leader Apo at once. Because his life and his freedom is of the utmost importance for us as the peoples of Rojava."
PYD Member Mihemmed Eli Mihammed said the isolation imposed upon Öcalan is not limited to him alone:
"The isolation is imposed upon 50 million Kurds in the person of Leader Apo, because Leader Apo represents 50 million Kurds. Any Kurd with a conscience should know that we must not accept a life without the Leader. The enemy's plans didn't work because Leader Apo spread his ideology and philosophy throughout the Middle East. We as a people will stand with our Leader against his imprisonment until the last drop of our blood, and continue to resist, following his footsteps. We will have our Leader out of that dungeon."
"TURKEY MUST BE STOPPED"
An Arab worker from Rojava yusuf Tevfik Al Juma said the Arab people and the peoples of the Middle East owe a lot to Öcalan, and added that they are concerned about Öcalan because of the isolation and international states must stop Turkey.
Shopkeeper from Qamishlo Mahir Yusuf said the Turkish state and international powers aim to tear Kurdish People's Leader Abdullah Öcalan away from the peoples.
"They should remember that the people and Leader Apo are one in spirit and body," said Yusuf and concluded with the following:
"The Turkish state must know that whatever they do, they can't tear us away from our Leader. With the imprisonment of Leader Apo, thousands joined this movement and the people came together even tighter. Erdogan is the true prisoner, our Leader is free. I condemn the Turkish state that imposes an isolation on Leader Apo, and murders our children in Afrin and Girê Spî."