Prisoners in Kırıklar jail go on hunger strike again as their demands are not met
Relatives of the prisoners drew attention to the persecution in Kırıklar Prison and announced that the hunger strike had resumed.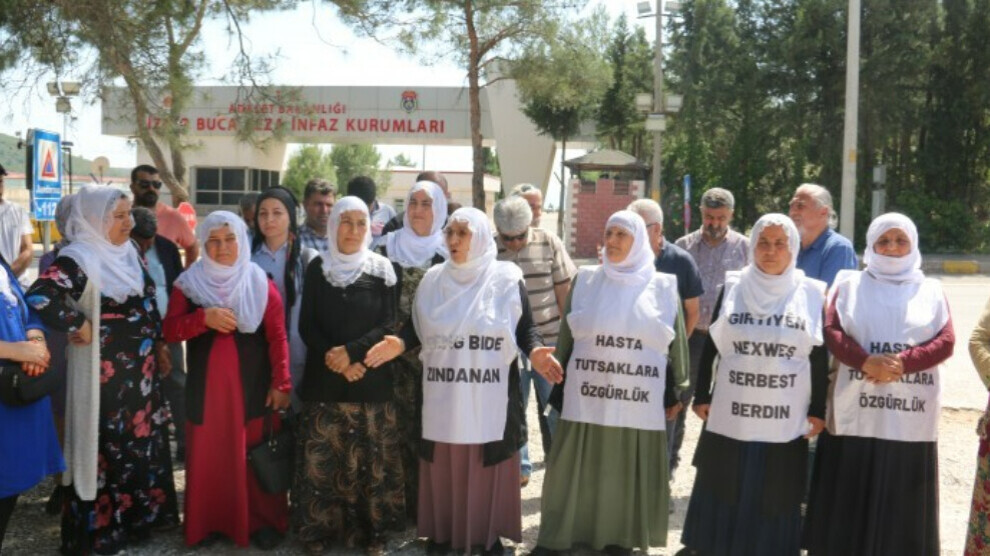 The Justice Vigil carried out by the relatives of ill prisoners and prisoners who haven't been released despite the end of their sentence, continued in front of Izmir Buca Kırıklar Prison. The vigil is on its 64th day.
Families gathered in front of the prison wearing t-shirts reading "Ji girtiyên nexweş re azadî (Freedom for ill prisoners)". The Peoples' Democratic Party (HDP) Karabağlar and Çiğli district organizations supported the statement.
Prisoner's relative Sultan Yagmekan said that the pressure on their relatives in jail has increased. Reminding that the prisoners in Kırıklar Prison went on a hunger strike for 63 days against rights violations and ended the protest because their demands were promised to be met, Yağmekan said that none of the promises were kept.
Yagmekan said that the prisoners went on a hunger strike again and added: "The promises made to the detainees were not fulfilled. Ill prisoners are not taken to hospital, and are kept in isolation. Who will be held accountable if something happens to our children? Onur Yılmaz went on a death fast in Kırıklar Prison due to the pressures. Other prisoners will follow if their demands are not met."
Another prisoner's relative, Medine Kaymaz, said: "As long as our children are persecuted, we will keep the vigil going. Those who are in prison are our children. They are deporting our children, sending them thousands of kilometers away from us. Whatever they do, we will go to see our children. The responsibility for all violations of rights lies with the state."