People detained in Amed suffer torture
One-year-old child detained and a disabled youth tortured in Amed. A total of 63 people were taken into custody, 24 are still held at the police station.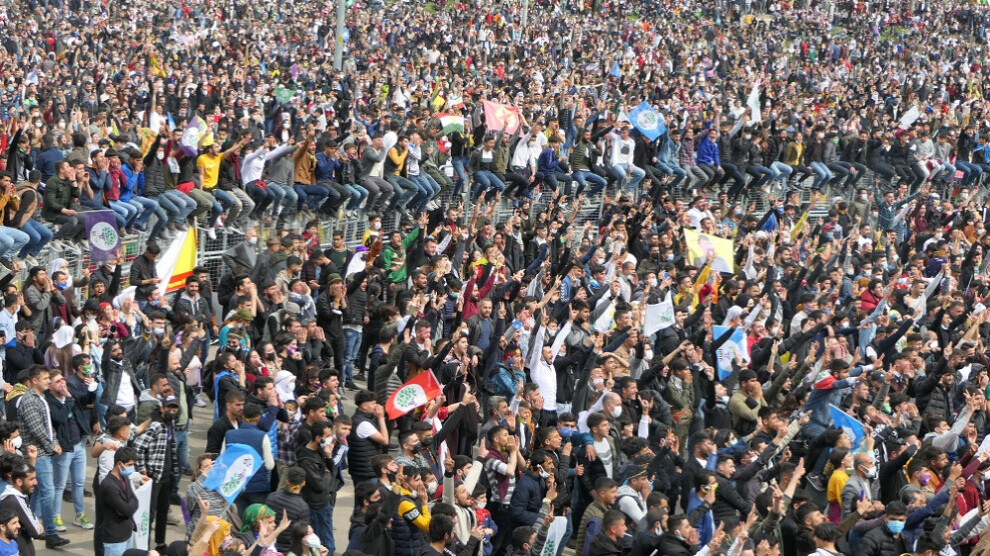 The people detained during the Newroz celebration in Amed were tortured physically and psychologically. Among those detained is even a one-year-old toddler who was being held with his mother.
Today, 63 people were detained for wearing yellow-red-green shawls and scarves at the entrance gates of the area during the Newroz celebration in Amed. While 39 people were released, 24 people are still being held in the Political Branch of the Diyarbakır Police Department.
According to information obtained from the people who have been released, a one-year-old toddler was detained with his mother. It was also learned that there were two more children, 3 and 5 years old, whose mothers were detained. In addition, V. Ş. (12), M. Ş. (11) and R.K. whose age was not learned were also taken into custody and released on the condition that their statements were taken by the prosecutor during the week.
It is stated that among those who were tortured and insulted will being brought to the police, was a 26-year-old youth with 76% disability. It was also learned that the young man, who suffered two crises, was tied with a rope by the police and his head was hit against the wall many times.
Updated name list of detainees: Dilan Çelik, Ayhan Seven, Dilşah Aba, Aynur Kaya, Dilan Yıldız, Bedirhan Güçmez, Gurbet Tarhan, Mülkiye Ozan, Şükran Kader, Cahide Bakırhan, Ömer Üstündal, Welat Zenol, Murat Kertay, Eylem Okuşu, Hanife Yılmaz , Hilal Ekin, Sibel Yüksel Demirel, Gürsel Kocaağa, Emine Nazlı, Yusuf Topkaya, Mehmet Salih Kocadağ, Yusuf Zengin, Ömer Kaya and Hastın Ahmet.