Nuriye Gülmen in critical condition: Can't even hold a pen
Lawyer Engin Gökoğlu said Gülmen and Özakça's conditions are worsening by the minute and remarked that Gülmen has reached a point where she can't even hold a pen.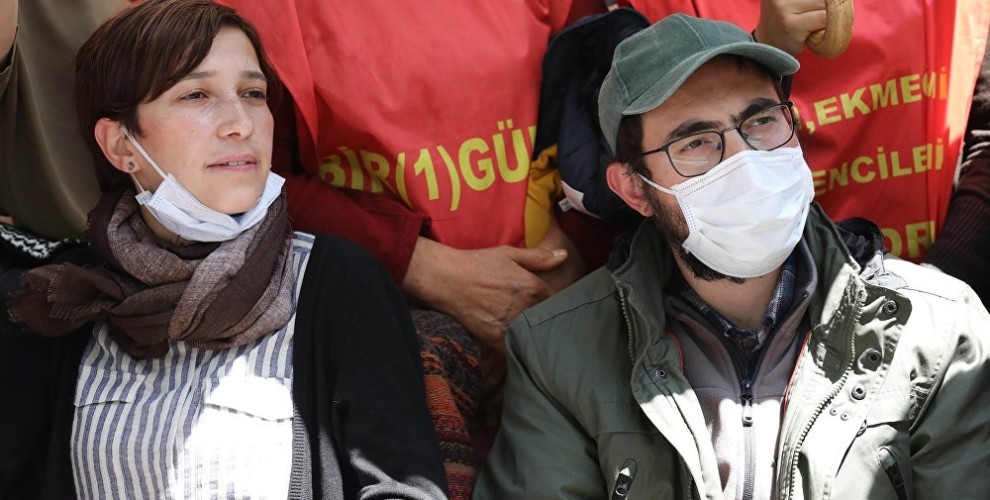 Lawyer Engin Gökoğlu spoke to the ANF about arrested educators Nuriye Gülmen and Semih Özakça whose hunger strike continues for 99 days.
Nuriye Gülmen and Semih Özakça were holding a daily vigil demonstration on Yüksel Street, Ankara against their expulsion with a Statutory Decree, and later started a hunger strike. The two educators have been unjustly imprisoned since. They have been on the hunger strike for 99 days, and their health is worsening by the minute. June 16, Friday will mark the 100th day of the hunger strike, and 100 lawyers are planning a protest in Ankara to draw attention to the oppression the educators are experiencing. One of the 100, Engin Gökoğlu of the People's Law Office, stated that Gülmen's condition was particularly critical. Gülmen (34) is held in Silivri Closed Prison for Women, and is brought to the visitation room in a wheelchair as she is unable to walk. She also can't hold a pen. Gülmen's muscles have atrophied and a general fatigue and light sensitivity has emerged. Gökoğlu said: "One week ago, she was able to take notes on their demands, write letters. During our last visit she couldn't hold a pen and our lawyers had to help her."
"SHE CAN'T TAKE CARE OF HER OWN NEEDS"
Nuriye Gülmen was deprived of the vitamin B-1, necessary to combat the detrimental effects of extended hunger on the brain, in prison and was only given the vitamin one day after her lawyers' visit. According to lawyer Gökoğlu, Gülmen's memory has suffered due to the long period without this vitamin, and she is now unable to take care of her own daily needs.
Gökoğlu said: "Semih Özakça also takes care of his needs with help from the other prisoners, but unlike Nuriye he can still walk - albeit slowly. We have also observed forgetfulness in Nuriye, but Semih doesn't show that symptom yet."
Gökoğlu stated that the two educators on hunger strike for 100 days have only one demand: to be returned to their jobs, and added that this demand should be accepted urgently. Gökoğlu said the two educators' health is getting worse every minute and they are "melting before our eyes". 
BOOK ON DEFENSE NOT DELIVERED
Meanwhile, arbitrary restrictions and practices in the prisons they are held in continue. The educators have not been given the books on legal defense to prepare for the first hearing on September 14. Gökoğlu said: "The book on defense prepared by Lawyer Barkın Timtik was not delivered to our clients even though we handed the books over to the prison administrations. Gülmen herself told us that the book was not delivered to her."