No news from Öcalan, concerns grow
For almost one year now, there have been no news on the condition of Kurdish People's Leader Abdullah Öcalan and three prisoners with him. They have been under absolute isolation. Lawyer Eren Keskin said there are serious concerns.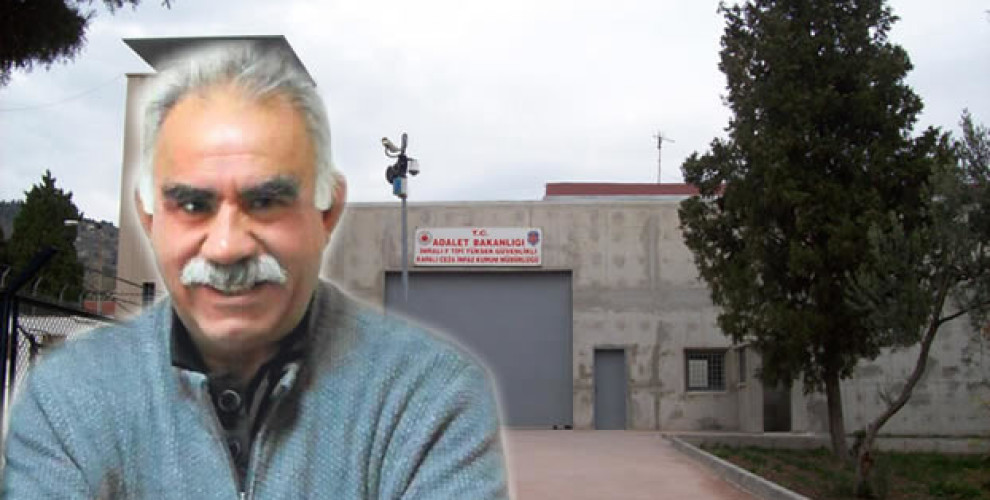 Human rights defender and lawyer Eren Keskin stated that there is no legal basis for the isolation imposed upon Öcalan and stressed that this needs to end immediately and visits need to be arranged.
Kurdish People's Leader Abdullah Öcalan has been held in İmralı Type F High Security Prison since February 15, 1999. The Turkish judiciary system is trampling their own laws as well as universal norms in the treatment of Öcalan, while international judicial institutions are also silent. One of the institutions that has turned a blind eye to the ongoing unlawfulness has been the European Court of Human Rights (ECHR). The ECHR verdicts regarding Öcalan show how the court can disregard the law.
Committee for the Prevention of Torture (CPT) has visited the İmralı Type F High Security Prison 7 times, and their last visit was with a 3-person committee on April 28-29, 2016. No information on any of the visits has been provided to date, and publication of reports the CPT prepared were prevented by the Turkish government. Following the intra-state conflict on July 15, Öcalan's lawyers appealed on July 19 and July 26 separately and requested an urgent visit by the CPT. A CPT committee inspected prisons in Turkey between August 29 and September 6, but was content with listening to the situation from the authorities and did not visit İmralı. CPT visited Turkey again this year on May 10-24 but didn't visit İmralı this time either.
ABSOLUTE ISOLATION HAS BEEN INSTATED
The isolation imposed upon Öcalan has been worsening step by step since 2011. The first step was stopping all lawyer visits from July 27, 2011 onwards, and the second was the detention and arrest of all of Öcalan's lawyers who attended the meetings during the Oslo process on November 22, 2011. Then on October 6, 2014, family and guardian visits were cut off completely. And by April 2015, the parliamentary committee's visits were ended. During this process, the five other inmates who were called the "secretariat" were replaced with other prisoners, but 2 of them were exiled to Silivri after the committee visits ended. Now family and lawyer visits for the remaining 3 inmates have been cut off, thus switching from aggravated isolation to complete isolation.
ALL TIES SEVERED
Following the practices to intensify the isolation, with a decree by Bursa 1st Judge of Execution dated July 20, 2016, Öcalan's and the other 3 prisoners' family and guardian visits and all communications like phone calls, letters, etc. were officially banned, and with this Öcalan's and the other prisoners' ties to the outside world, including any kind of communication, were severed. The time of "bad weather" and "the coaster is out" excuses has passed. In the new period since July 20, 2016, all appeals for visit by the family, lawyers or visitors are rejected, citing the court order, and communication and correspondence is not allowed. Considering the court ruled that these bans would stay in effect "throughout the State of Emergency period", and that the State of Emergency is renewed whenever it ends, the absolute isolation has been made permanent and continuous.
DE FACTO EXECUTION POLICY
Öcalan's lawyers can't even learn whether he and the 3 other prisoners are alive or not. According to the lawyers, even though the prisoners are stated to be alive, absolute isolation means the implementation of a political and de facto execution policy. Because like a death sentence cuts off physical ties to the outside world, absolute isolation also cuts off all of Öcalan's ties to the outside world, including communication, thus becoming a physical and political execution. The law exercised over Öcalan is the law of enemies and the status of a hostage. Öcalan had previously made the statement, "A person can't live under these circumstances for even 6 days, I have all but died. I am a political hostage here. My situation shoud be known as such. I can explain this with a simile: I'm like a man on life support, they can pull the plug any time they want. Intensifying the isolation will mean an execution in any case." The "absolute isolation" situation he has been in since 2015 is more than the intensifying of the isolation, it is, in the words of Turkish authorities, "burying a man alive". And that is the most brutal form of torture. There is absolutely no information on Öcalan and the other 3 prisoners.
TURKEY IS EMPLOYING ILLEGAL PRACTICES
Speaking to ANF, human rights defender and one of Öcalan's first lawyers when he was brought to Turkey, Eren Keskin stated that the isolation imposed upon Öcalan started when he was brought to Turkey and it's not new. Keskin said the isolation policies continued to get harsher and have today reached the peak intensity, and continued: "Considering the international treaties Turkey has signed and the country's own laws, the isolation imposed upon Öcalan now, the ban on visits, is illegal. It goes against both international law and Turkey's own laws. There is nothing in the law to warrant this, but the visits are banned."
COMPLETELY POLITICAL ATTITUDE
Recalling that Öcalan is denied meeting with his family and lawyers for a long while now, Keskin said there can be no individual-focused practices in law. According to Keskin, the treatment of Öcalan is such a practice and the isolation is put in place for completely political reasons. Keskin stressed that the isolation is a consequence of the Turkish state's lack of will to come up with a peaceful solution to the Kurdish question.
INTERNATIONAL SILENCE
Keskin remarked that both domestic and international public opinion has responsibilities against the isolation imposed on Öcalan who -she said- was not an individual but a leader with an influence on millions of people. Keskin continued:
"Now that a person in such a position is being subjected to this much unlawfulness that goes against the conventions Turkey is a party to, the parties of these conventions should also issue a call to Turkey. However, we are currently far away from such a stance and there exists an international silence."
ISOLATION CAUSES TENSIONS IN SOCIETY
Keskin pointed out that they as human rights defenders demand a peaceful resolution to the Kurdish question, noting that the isolation causes tensions and desperateness in the society. She said: "The unlawful isolation must end in order to keep the hope for solution and peace alive and achieve normalization."
Keskin remarked that the current situation does not give anyone confidence, underlining that she herself, as a lawyer and human rights defender who experienced the 90's, has never witnessed a time as insecure and desperate as present.
CPT EVADES RESPONSIBILITY
Keskin said the Committee For the Prevention of Torture (CPT) cannot act freely against Öcalan's isolation, and called the CPT to act and play its role against isolation as the Committee and other such institutions are supposed to provide support when there is nothing left people can do.
WE ARE CONCERNED FOR ÖCALAN
Keskin put emphasis on the importance of treatment towards Öcalan, acknowledging the argument that isolation means insistence on war to be right.
Voicing concerns over the situation of the Kurdish leader, Keskin demanded immediate access to Öcalan by his family and lawyers and improvement of his conditions; removal of the isolation being in the first place.