My mum's body is covered with bruises
Maside Ocak tells of the detention of the Saturday Mothers and the harassment of her own 82 years old mother.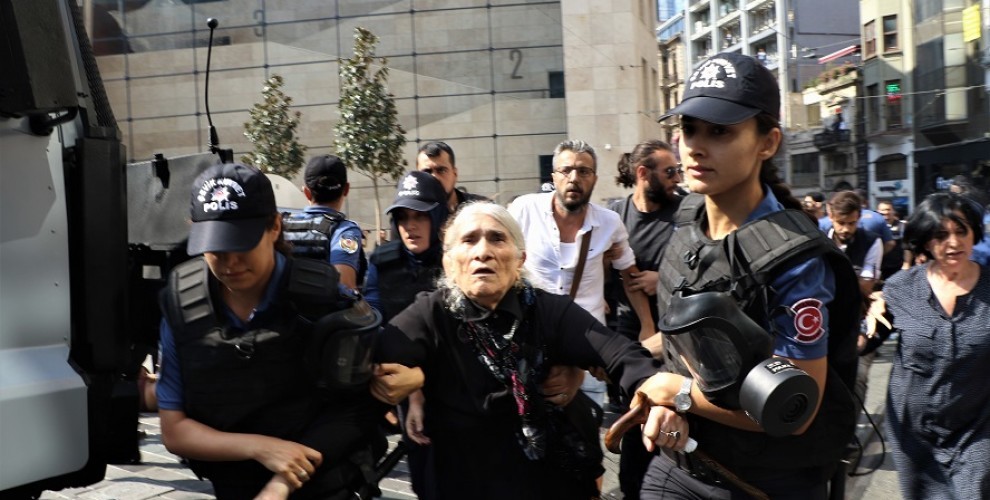 After the decision by Interior Minister, Süleyman Soylu, to deny permission for the 700th action by the Saturday Mothers in Galatasaray Square, in Istanbul, police attacked the relatives of the disappeared people who were trying to reach the square. 
Emine Ocak, 82, was photographed by journalist Hayri Tunç while she was taken under custody.The iconic name of the disappeared people in police custody, and founder of the action in 1985, was the greatest indication of how state persecution in the country has not changed. 
Emine Ocak, whose son Hasan disappeared when in police custody, had been beaten 23 years ago like she was last Saturday. 
Her daughter, Maside, told ANF about last week.
Maside Ocak herself was taken in custody last Saturday, together with scores of other mothers and people. She tells how her 82 mother and the other people were beaten by police. 
Maside Ocak was released from Bayrampaşa Hospital after 9 hours said: "When we came to Galatasaray Square to sit-in for the 700th week, the police officially declared that our activities were prohibited. They did it verbally without written notice. We were trying to meet with the governor of Istanbul and the district governor at that time".
Maside Ocak said that her mother's body is covered in bruises because of the police harassment and that the people who were detained, included herself, were not even given permission to go to toilette. "I had been taken into custody before - she said - but the treatment we were subjected to last Saturday was unprecedented in its violence".