Mothers urge the government to accept hunger strikers' demand
"We will continue to support our children. We call on everyone to be the voice of the prisoners and to urge the government to accept their demand."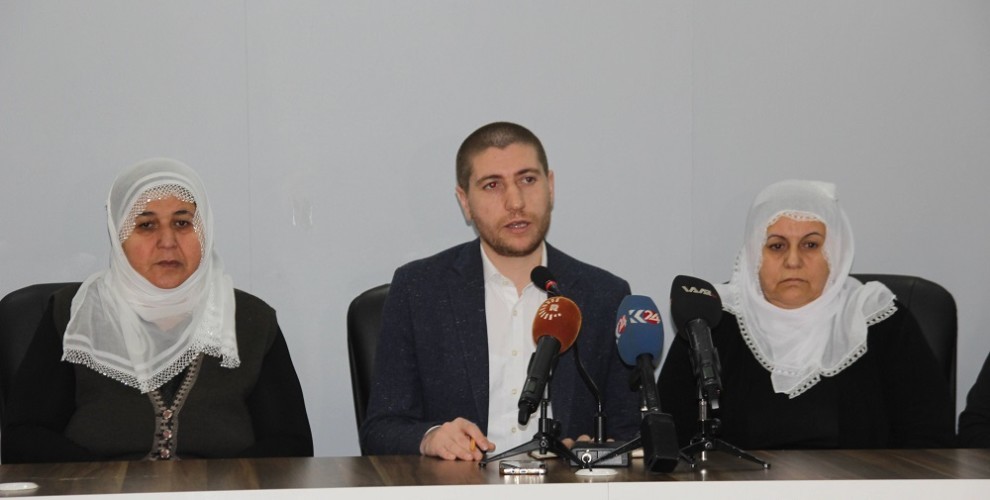 The families of prisoners on hunger strike demanding the end of isolation against Kurdish People's Leader Abdullah Öcalan held a press conference at the premises of the Human Rights Association (IHD) Amed Branch.
The meeting was attended by IHD Amed Branch chair, Abdullah Zeytun and members of the Peace Mothers Assembly.
Zeytun: State crimes
Zeytun said: "We have repeatedly underlined the execution of special rules against a person. Since 1 March, thousands of prisoners in Turkey's jails began a hunger strike demanding the end of isolation.
Democratic Society Congress (DTK) co-chair and HDP Hakkari MP Leyla Güven led the hunger strike and continues her fast. We want to remind the Ministry of Justice that it is a criminal offense to deny legal rights, it is against the constitution."
Naife Yiğit, Peace Mothers Assembly member and the mother of a prisoner on hunger strike said: "We have always extended our hand to peace, but each time the State and the AKP government has refused to take a single step. Erdoğan is making politics with the blood of our children. We call out to the Justice Minister, remove the isolation, listen to scream of death. We are mothers, we cannot endure this apathy anymore."
Peace Mothers: The government should listen to prisoners and accept their demand
Yiğit pointed out that everyone is responsible for death in prisons and condemned the authorities that abducted the body of Zülküf Gezen, who ended his life to protest isolation.
Yiğit stated that they did not want a second dead body to leave prisons and added: "We are addressing President Erdoğan: today, he is running a country, but only through the lives of our children. For years the mothers have been asking for peace as we have only one wish, living in peace. But each time, they pushed backwards. We want mothers to stop crying, all mothers. Because mothers have no tears left.
We will continue to support our children. We call on everyone to be the voice of the prisoners and to urge the government to accept their demand."