Mother Şenyaşar calls on women to witness what they experience
Mother Emine Şenyaşar, whose family was murdered by AKP members, called out to women and said "Come to the courthouse and watch the abuse we are subjected to."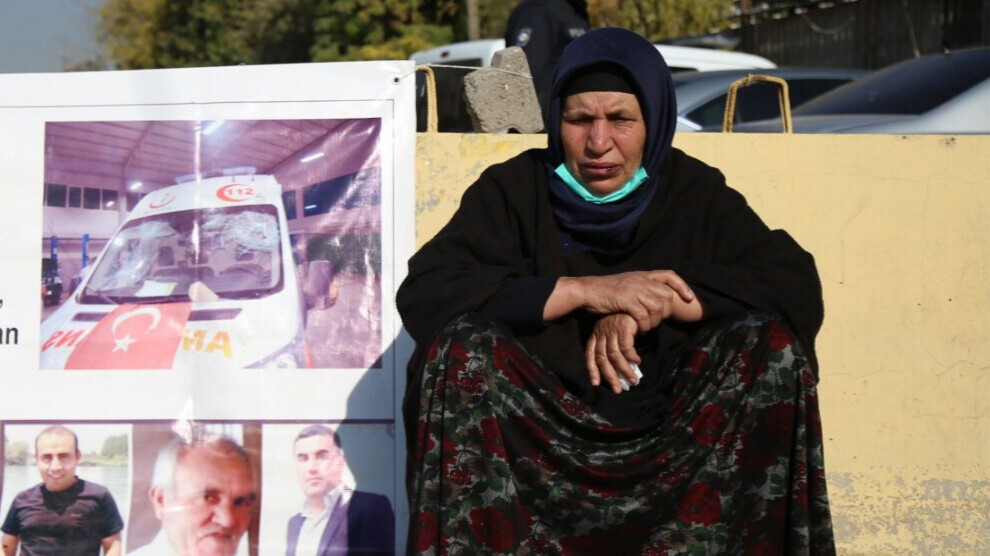 The Justice Vigil started on March 9, 2021, by Emine Şenyaşar, who lost her husband and two sons in a massacre by the bodyguards and relatives of AKP Deputy İbrahim Halil Yıldız, and by her son Ferit Şenyaşar, who was injured in the attack in front of the Urfa courthouse in the Suruç district of Urfa, on 14 June 2018, is now on its 338th day. Mother Şenyaşar arrived in front of the court today with the scarf knitted for her by the Saturday Mothers and began the vigil with her son.
Emine Şenyaşar remarked that the Justice Vigil was still being attacked and added, "Women, especially all-female deputies, should come and watch the abuse in front of the Urfa Courthouse. Come and see what we are exposed to. Those who murdered my children are still walking free out there. I've been standing in front of the Urfa Courthouse for a year." 
 'WHAT KIND OF STATE IS THAT? IS THIS JUSTICE?'
Şenyaşar, who demanded the release of her son Fadıl Şenyaşar, who has been held in Elazığ Prison for nearly 4 years, said, "Release my son, enough is enough. We want to return home. I'm waiting for my son here. I want to see my son before I die. I'm not leaving until my son is free. Isn't Erdogan aware that my children are innocent? Emine Erdogan has children of her own. Isn't she aware of the anguish I've been in for a year? Everyone knows that my children were killed unjustly. I've been standing here for four years. I can't take any more of this abuse. What kind of state is that? Is this justice? "