Marseille group takes over the Vigil for Öcalan
The Vigil for Öcalan in front of the Council of Europe has reached week 300 and this time is being carried out by a group from Marseille.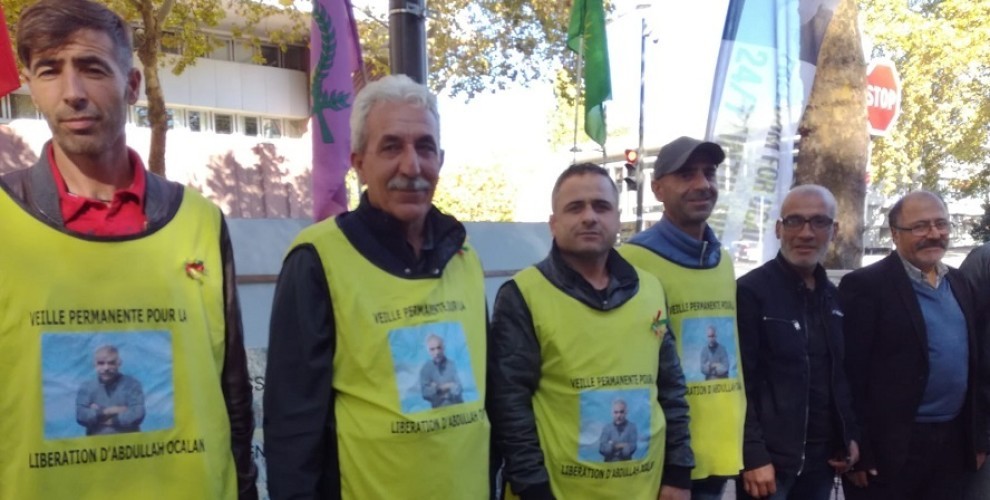 On 25 June 2012, the Freedom for Öcalan Vigil was launched in front of the Council of Europe building in Strasbourg, France. The action has continued uninterruptedly since.
Every week activists from a different city of Europe are taking part in the Vigil, aimed at exposing the isolation regime imposed on Kurdish People's Leader Abdullah Öcalan and claiming his freedom. 
This week, Ilhami Karakaya, M. Şirin Çiftçi, Mahsun Küçükkaya and Engin Karaağaç, from the city of Marseille and its surroundings, have taken over the Vigil for Öcalan.
"The Council of Europe and the CPT should be able to clarify the status of our leader, - said the Marseille group - Every person has the right to life". 
Pointing at the decision to continue the Vigil for Öcalan in its 7 th anniversary the activists said: "We are demanding these institutions to clarify the situation of our leader for 7 years. We have been waiting patiently for 7 years to learn news of our leadership". 
Activists underlined that the years of action are a sign of commitment and respect for Öcalan.