Letter from Gebze Prison: We are under torture!
Strict pressure and torture in Gebze Type M Women's Prison has taken a systemic form. The detainees are tortured in the place called "the under door", under the guise of searches. Inmate Evrim Konak sent a letter from the prison telling her experiences.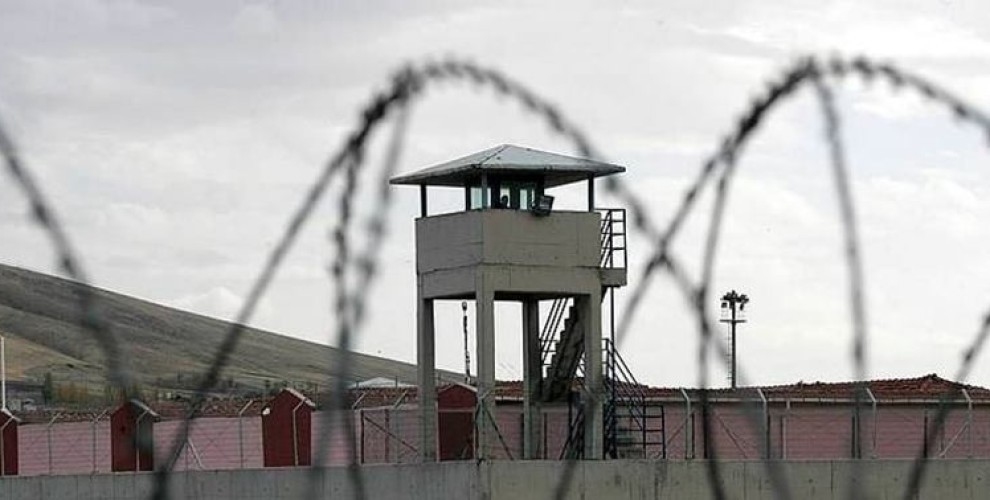 Rights violations and torture in prisons has peaked since the declaration of the State of Emergency. Every day news of a different violation come out of the prisons, at a rate that surpasses the '80s.
There is systemic torture in prisons and they are not open for inspection. The latest report listing the rights violations in prisons by the CPT is prevented from being made public by the AKP government.
One of the prisons-turned-torture-centers is the Gebze Type M Prison. Verbal and physical abuse geared towards the women in this prison has increased since the declaration of State of Emergency.
There is a place in prison called "the under door", where women prisoners are tortured by soldiers, normally supposed to be "responsible for exterior security". Prisoners are violently thrown on the concrete floor and forced to lay on their face.
The women's arms are bent behind their backs, then they are handcuffed on one wrist and dragged into search rooms, where they are subjected to beatings and verbal harrassment. Women have suffered loss of consciousness and broken bones during these torture sessions, after which they are not allowed to visit the infirmary.
Sometimes the torture is not even hidden from the wardens or other prisoners, and carried out in the open areas of the prison.
Infirmary and hospital visits are also deliberately obstructed in the Gebze Type M Women's Prison. The wards are torn apart in name of searches, and many personal belongings are confiscated.
Sick prisoners are prevented from access to their medical checks and medicine, thus experience deterioration of their conditions.
The ANF received Evrim Konak's letter from Gebze Type M Prison through the independent volunteer activists at gorulmustur.org ("seen", as stamped on correspondence entering-exiting prisons, an initiative aiming to make the prisoners' voices heard outside). The full letter is as follows:
"Dear friends, hello.
We had written to you in detail about the issue we have been having. The problem continues unchanged. Since that day, no positive development has been achieved. We are still prevented from hospital transfers in a deliberate and arbitrary fashion. Even though we have transfer documents, we are not taken to the hospital, and we are forcibly taken from the under door to our wards.
The search practice has surpassed the authority given by the "notice", which was intentionally left open ended with this in mind. In any case, it doesn't make searches "mandatory". And this practice being employed in only two wards shows their true purpose.
We were taken to the court on April 18 and 28. ATTACKS ON OUR PERSONS ON COURT DAYS HAVE ALMOST BECOME ROUTINE. AND EVERY ATTACK SURPASSES THE PREVIOUS ONE! THEY PULLED US INTO THE ROOM AND TORTURED US ON APRIL 18 UNDER THE GUISE OF A SEARCH!
AND ON APRIL 28, THEY WERE VIOLENT WITH US, CARELESSLY, WHERE THE CAMERAS COULD SEE, EVEN ALMOST IN FRONT OF THE PRISON WORKERS! THEY TORTURED US!
IN THE PLACE CALLED THE UNDER DOOR, THE SECURITY FORCES OF THE STATE, WHO WE KNOW TO BE RESPONSIBLE FOR EXTERIOR SECURITY, TOOK US FROM THE WARDENS AND THREW US ON THE CONCRETE FLOOR. THEY FORCED US TO LAY ON OUR FACES THERE AND TWISTED OUR ARMS. THEY HANDCUFFED US ON ONE ARM AND DRAGGED US INTO THE SEARCH ROOM. LET US REITERATE THIS: IN THAT ROOM, WE WERE NOT SEARCHED. WE WERE TORTURED!
Without lifting her off the ground, they all attack one single person, however many they are. They step on our heads and our backs with military boots to stop us from resisting and chanting slogans! They sit on our legs and arms. They cover our mouths, they pull our heads back by our hair! They slap us on the face. When they are done inside, they drag us by the handcuffs, which are fitted over our wrist bones to hurt more, and throw us into the transfer van. We are subjected to verbal assaults as well as the physical torture.
The second hearing will be on May 26. They will carry out a similar attack, maybe one much harsher. Of course as long as the imposition of searches continues, violence and torture will not end. The solution to this issue is clear and simple: Remove the current arbitrary practices. At this point it is not possible for us to accept the soldiers' imposition. Accepting it would mean legitimizing rights violations and torture. No other women's prison has soldiers searching people today. What they call "notices", "charters" and such, is actually the fascist pressure that came with the Statutory Decrees. We normally go through two searches and one sensor door before we arrive in the under door area.
To this day, they haven't had one incident where we created a problem. Yes, the "notice" puts forth some articles, but it is the human that formulates it. The goals and the intentions are of course important. And as far as we can see, there is an ideological goal here outside of the "notice".
Our right to medical treatment being prevented is the usurpation of the most fundamental human right. Being tortured on our way to court is a crime against humanity. International human rights law consider these crimes.
We hope those who torture us are delivered from the delusion that they are "doing their duty". Torture can not be a duty! But if they think torture is legitimate for their duty, then surely there is no delusion there, but fascism and regressive ideology. But all can carry out their duty without pushing the boundary on humanity. For example, they could resort to legal methods, through reports, rather than violence and torture.
In conclusion: Torture is a crime against humanity. This isn't just the crime of the perpetrators, the wardens and the prison administration is part of it. Also, the collusion doesn't make sense any more. And any anti-humane practice will definitely turn and bite the perpetrators. This dirty system that manufactures crimes is seen today to hurt "people" from all walks of life.
In short: when demanding rights, they are earned not for the individual, but for the society in general. These are things that everybody will need one day. Let us say this one more time through you: End arbitrary practices, torture and rights violations.
Our right to treatment can't be stopped! Human dignity will prevail over torture!"