Jailed SGDF members held in solitary confinement for 5 months
Lawyer Sezin Uçar, a member of EHB said that 3 jailed members of SGDF were tortured in Sincan Prison and have been kept in a solitary cell since 19 October 2020 on the grounds that they reject standing up during inmate count.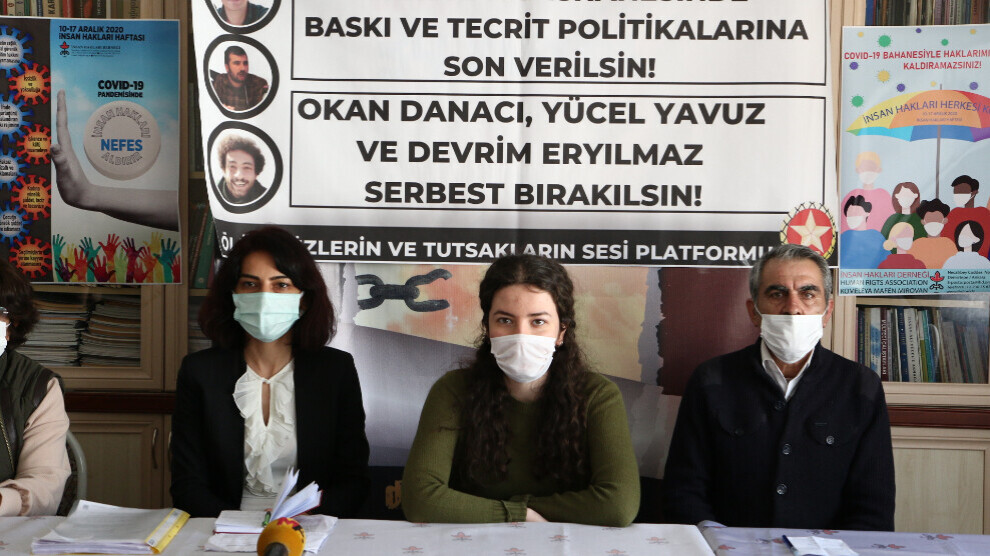 The Voice of Immortals and Prisoners Platform (ÖTSP) held a press conference at the Human Rights Association (IHD) headquarters in Ankara to denounce the violations of rights and torture suffered by the Socialist Youth Associations Federation (SGDF) Central Executive Board members Okan Danacı and Yücel Yavuz and SGDF members Devrim Taylan Eryılmaz in Sincan prison.
Socialist Party of the Oppressed (ESP) Central Executive Board (MYK) Member Hüseyin İldan, IHD Central Executive Board member Nuray Cevirmen, member of the Law Office of the Oppressed (EHB) lawyer Sezin Uçar, and lawyer Nihat Can Koçak, a member of the Contemporary Lawyers Association (ÇHD) attended the press release.
Ildan said, "Our friends who were arrested on October 19 have suffered torture and isolation. They are still held in solitary cells. We want the isolation of our friends to be stopped and we want them to be brought together with other prisoners as soon as possible."
"THERE IS NO VERDICT YET"
Lawyer Sezin Uçar said; "Yücel and Devrim are students at Ankara University and are on trial for the actions and activities they participated at the university. Yücel, Devrim and Okan have been attacked by the prison administration for opposing to stand up during inmate count and they have been held in solitary confinement since the date they were arrested. Although there is no verdict about them yet, they are kept under the conditions of the prisoners who received life imprisonment and they face torture and oppression."
Uçar noted that their first hearing will be held on April 8 and called for attendance in the hearing for support.
Speaking after, Nuray Cevirmen said; "Conditions in prisons are further aggravated. The violations of rights against prisoners have increased following the amendments in the execution law. Outside, there is serious pressure on young people and non-governmental organizations. We receive complaints about the agencification and abductions. We will continue to follow the cases of our friends."