IHD Izmir branch records 6,383 rights violations in the Aegean Region in last 4 months
The IHD Izmir branch recorded 6,383 rights violations in the Aegean Region in 4 months.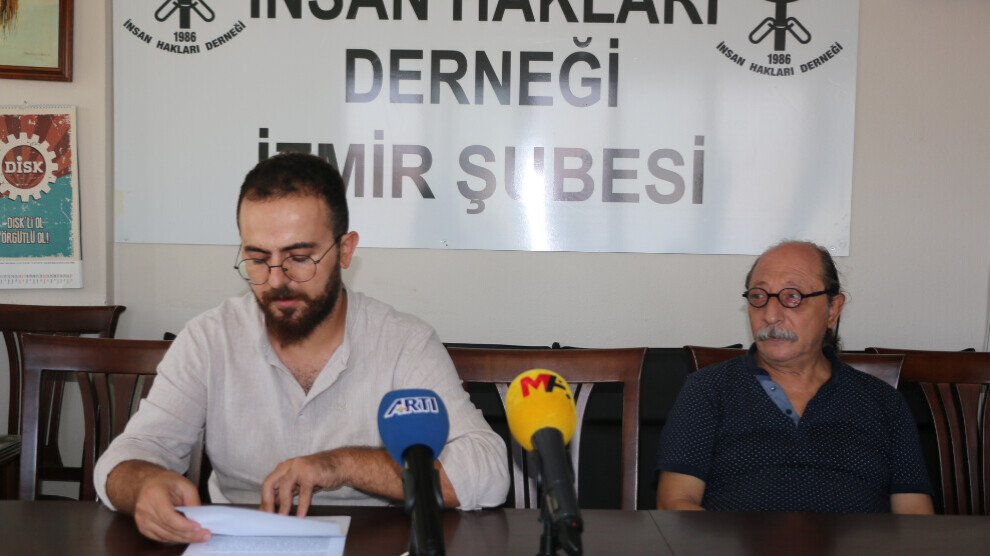 The Human Rights Association (IHD) Izmir branch has announced the 4-month Aegean Region Rights Violations Report covering the months of May, June, July and August. IHD Izmir branch president, Zafer Incin, said that the figures are made up of applications made to the association and news in the press and covered the provinces of Izmir, Aydın, Denizli, Kütahya, Balıkesir, Muğla, Manisa, Uşak, Burdur, and Isparta.
Incin said that 5,304 violations of rights were registered from January and April while 6,383 rights violations were registered from May to August. Discriminatory-racist attacks have increased as a result of the polarized language of the government and the impunity of the judiciary, said Incin, adding: "[HDP worker] Deniz Poyraz was killed during an attack on the HDP party building in our region. In recent months, police have been forcing young people from opposition parties or organizations into becoming agents."
Emphasizing that the violations of women's rights increased after the abolition of the Istanbul Convention, Incin said: "The law enforcement's lack of involvement, the impunity granted by the decisions of the judiciary and the use of a male language in the media caused an increase in attacks against women. Attacks and murders against women are political."
Rights violations
Incin listed the rights violations registered in the last 4 months as follows:
* Detention, arrest, pressure by security forces, threats, obstructions and violations of rights brought to the judiciary: 226
* Violation of women's rights: 198
* Violation of children's rights: 39
* Violation of rights at work: 698
* Violation of rights in prison: 56
* Violation of rights of refugees: 4,747
* Violation of rights within family/relative circles
* Other violations of rights such as assault, violence, injury, suspicious death, alleged suicide, murder: 255
Incin said that there were 6,383 rights violations in total.