IHD Co-Chair: There is a search for justice all over the country
IHD Co-Chair Öztürk Türkdoğan, who visited the Prisoner Families' Justice Vigil, said, "There is a search for justice all over the country."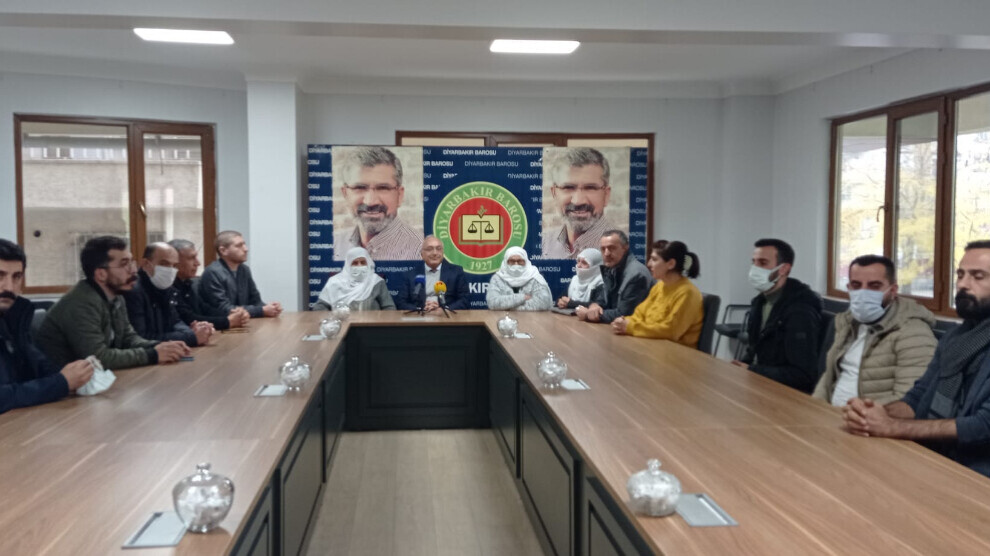 The Justice Vigil, which was started by the families of sick prisoners, is now on its 13th day. Human Rights Association (IHD) Co-Chair Öztürk Türkdoğan and the accompanying delegation, as well as Peoples' Democratic Party (HDP) Amed Provincial Co-chair Gülistan Atasoy Tekdemir, paid a visit to families at the Amed Bar Association on Saturday.
During the visit, Türkdoğan expressed support for the families seeking justice, stating that the families' demand for justice is everyone's need. Underlining that the conditional release of sick prisoners is ignored, Türkdoğan said, "Prisoners' penalties are being increased under the newly enacted Penal Execution Law. When it comes to Kurdish prisoners, we face enormous discrimination. While the criminal organization leaders were released, this right was not available to political prisoners. We filed a case with the Council of State, and we raised an objection, but it didn't help. Discrimination against prisoners in Turkey must end. The practice of abolishing executions must be stopped."
'THERE IS A SEARCH FOR JUSTICE ALL OVER THE COUNTRY'
Öztürk stated that the European Court of Human Rights (ECtHR) will rule on four cases within the next month and added that, "Across the country, people are seeking justice. The Şenyaşar family is searching for justice. Meanwhile, the Minister of Justice also speaks about the rule of law. Then steps should be taken accordingly."
"The main reason for all this is the lack of peace in Turkey," said Türkdoğan and continued, "There weren't even 20 people when we sent the first letter to the sick prisoners as IHD. However, the number of seriously ill prisoners has exceeded 600. Despite the fact that their ailments have been detected, they are not freed. It should be known that the prisoners' situation is not going well. As IHD, we are trying to resolve the matter. The conditions must be equal regardless of why the prisoners are jailed."
'THEY ARE IMPRISONED BECAUSE OF THEIR KURDISH IDENTITY'
One of the prisoners' relatives, Fevziye Kolakan, stated that they were on the search for justice and called for their children to be released as quickly as possible. Kolakan said, "We are Kurds and we are here to defend our language and our rights. Our children are imprisoned because they are Kurds. We demand human rights. My husband and son are both imprisoned. He is eighty-three years old. My son is imprisoned in Kandıra. In prison, inmates are subjected to a variety of punishments."
Hasina Güler said, "We're here for our children. Our children are ill, we are human beings, and we demand our basic human rights. They should not punish us for claiming our rights. Our children are not given the things we send to them. We keep our vigil so that everyone can live with dignity. Justice must be served as soon as possible."
'TURKEY TURNED INTO A PRISON'
Gülistan Atasoy, Provincial Co-chair of the HDP in Amed, stated that Turkey has been converted into a prison as a whole and that there have been numerous abuses of rights in the prison, particularly in recent days. Atasoy pointed out that most of the ill prisoners are subjected to rights breaches.
Emphasizing that the families' attitude against this injustice is hope-inspiring, Atasoy added, "The vigil started  by the families here is a valuable step. We'll stand by the mothers."