IHD: Afrin prisoners in Hatay are denied medical treatment
The IHD stated that they will file an application to the Constitutional Court on behalf of Afrin detainees held in Hatay Yayladağı T Type Closed Prison, reporting that they don't receive medical treatment and are deprived of all of their rights.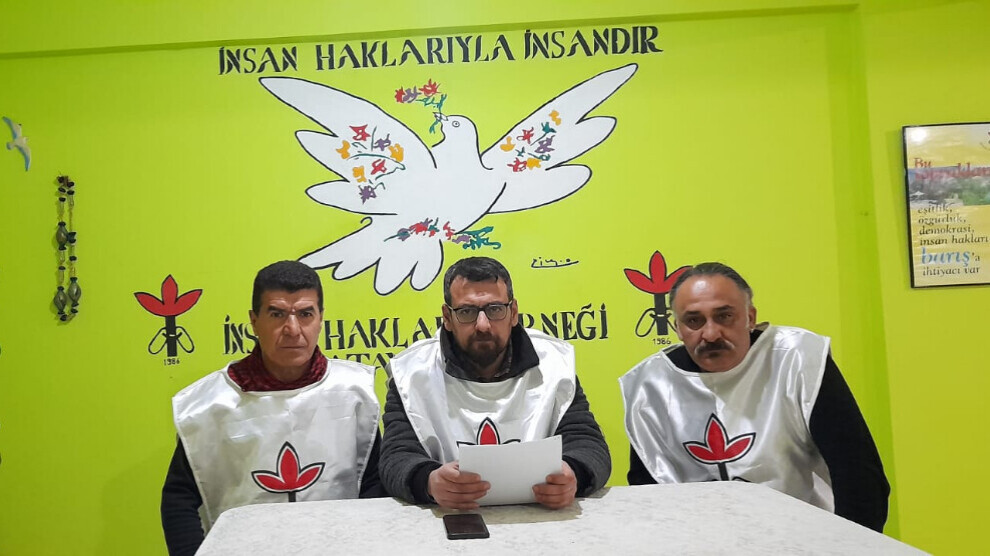 The Human Rights Association (IHD) Hatay Branch Prison Commission compiled a report on human rights breaches at Yayladağı T Type Closed Prison. The report prepared during the lawyers' meeting with the Afrin prisoners details the rights breaches experienced by prisoners.
The report indicated that the Afrin prisoners' objections and defenses were not taken into account, and thus their right to a fair trial and defense was violated, and that an application would be made before the Constitutional Court (AYM) about the events.
According to the report, the prisoners had serious health problems, they were unable to apply to the prison administration due to fear, their health rights were violated, the prohibition of torture and ill-treatment was violated, and an investigation should be launched immediately under criminal law.
M.M.D. and M.V.I were detained in Afrin in 2018, tortured by the FSA, and subsequently handed over to Turkey. For four years, they have been held in the same ward with 12 people who define themselves as "independent."
'THERE ARE PIECES OF SHRAPNEL IN HIS BODY'
M.M.D. alleged in the report that they were tortured while being arrested by the FSA in Afrin, and that he was wounded with a gun and had his leg severed. The prisoner said that he was tortured in Afrin by the FSA, and that FSA troops asked him, "Are you Arab or Kurdish?" and when he replied, "I am a Kurd," FSA gangs shot two bullets in his leg, and he was treated in Turkey, but that there are still shrapnel fragments in his legs, arms, and head. While A.S.T stated that he was not subjected to ill-treatment or torture in prison, M.M.D. indicated that when he was taken to prison, he was subjected to brutal beatings and blows.
THE SITUATION OF THE PRISONERS IS WORRYING
Remarking that disciplinary punishments were frequently given to A.S.T. and M.M.D., the report said, "M.M.D. indicated that he could not get enough medical support, that he was not transported to the hospital, that he had a chronic headache, that the prison doctor was merely giving medication while he needed regular appointments with a psychologist and wanted to go to the hospital. A. S. T. reported that he had difficulty seeing a doctor for 4 months, despite the fact that he needed treatment due to shrapnel fragments in his legs, arms, and head. Both prisoners stated that even a once-in-a-while visits made them feel like human beings, that no one put them in the position of human beings, and that both the previous and this visit were very important to them. They stated that if the family members with whom they provided their information could be reached, they would communicate with them immediately. The mentioned prisoners are in the same ward as Y.S., who has a heart ailment, and M.V. I. who was handicapped due to shrapnel in his foot. Another prisoner named M.A.M.'s bone became inflamed and began to rot after he was shot in the foot."