Human rights organizations in NE Syria urge the UN to act
The Turkish state does not abstain from committing brutal and inhuman crimes in the regions it has already occupied or is seeking to occupy in northeast Syria.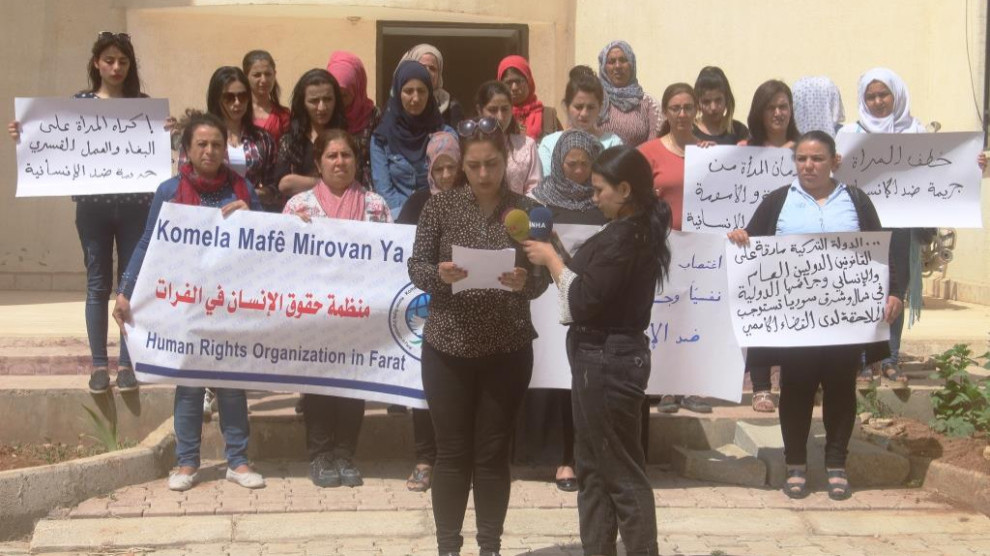 The human rights organizations in North and East Syria made a press statement regarding the crimes committed by the occupant Turkish state forces in the region. During the press briefing in front of the Human Rights Organization office in Kobanê, the activists called on the United Nations to fulfill its mission and take action against the crimes perpetrated in the region.
The institutions that participated in the briefing are: Syrian Women's Rights Defence and Research Center, Cizire Region Social Justice Council, North and East Syrian Women's Council for Social Justice, Cizire Region Association of Lawyers, Cizire Region Human Rights Organization and Afrin Human Rights Organization.
Reading the joint press statement, Euphrates Region Human Rights Organization executive Nesrin Eli said the following; "We are addressing our call to the UN Secretary General António Guterres, Chair of the UN Commission of Inquiry on Syria, Paulo Pinheiro and Executive Director of UN Women, Phumzile Mlambo-Ngcuka. The Turkish state is committing crimes against humanity in North and East Syria, changing the demography of the region and perpetrating ethnic cleansing. The Turkish state and allied mercenaries seek to crush the will of the women who have defeated ISIS. A brutal policy is being pursued against women."
Denouncing the crimes committed by the Turkish state, Nesrin Eli continued; "The Turkish state is violating in North-East Syria the articles 5,6,7 and 8 of the Treaty of Rome. International prosecutors are supposed to launch an investigation basing on the Article 15 of the Treaty of Rome and execute the articles 1 and 89 of the Geneva Convention. The Article 147 of the Geneva Conventions of 1949 also point to the same procedure. International law must bring those responsible for the crimes committed in Afrin, Serekaniye (Ras al-Ain) and Gire Spi (Tal Abyad) to account."
RELATED NEWS: