HRW: Turkish strikes in northern Iraq may break laws of war
At least 7 non-combatants killed; residents say no military targets nearby.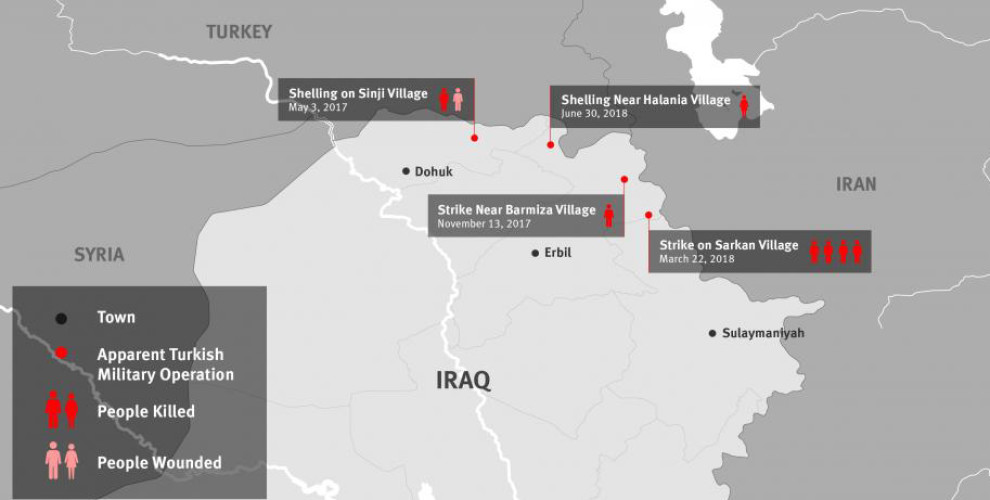 Four apparent Turkish military operations against the armed Kurdistan Workers' Party (PKK) in northern Iraq Iraq dating back over a year should be investigated for possible violations of the laws of war, Human Rights Watch said today. The attacks killed at least seven non-combatants and wounded another, witnesses and relatives said.
Speaking to Human Rights Watch by phone, witnesses and relatives said that what appeared to be Turkish air and ground attacks during four operations between May 2017 and June 2018 killed at least six men and one woman and injured another man. They said there were no apparent military objectives near the strikes. Human Rights Watch was unable to visit the sites but obtained photographs and death certificates to corroborate the allegations.
"As Turkey steps up operations in Iraq, it should be taking all feasible precautions to avoid harming civilians there," said Lama Fakih, deputy Middle East director at Human Rights Watch. "Turkey should investigate possible unlawful strikes that killed civilians, punish those responsible for wrongdoing, and compensate victims' families."
Residents say the Turkish Armed Forces have declared the areas surrounding their outposts out of bounds for civilians. However, local people depend on these sparsely populated agricultural areas.
Full report of the HRW can be found at: