HRW calls on the EU to make rights central to Erdoğan meeting
HRW said Juncker and Tusk should insist that EU-Turkey relations depend on Erdoğan's releasing journalists and elected politicians, ending the state of emergency used to perpetuate a lawless crackdown on perceived opponents.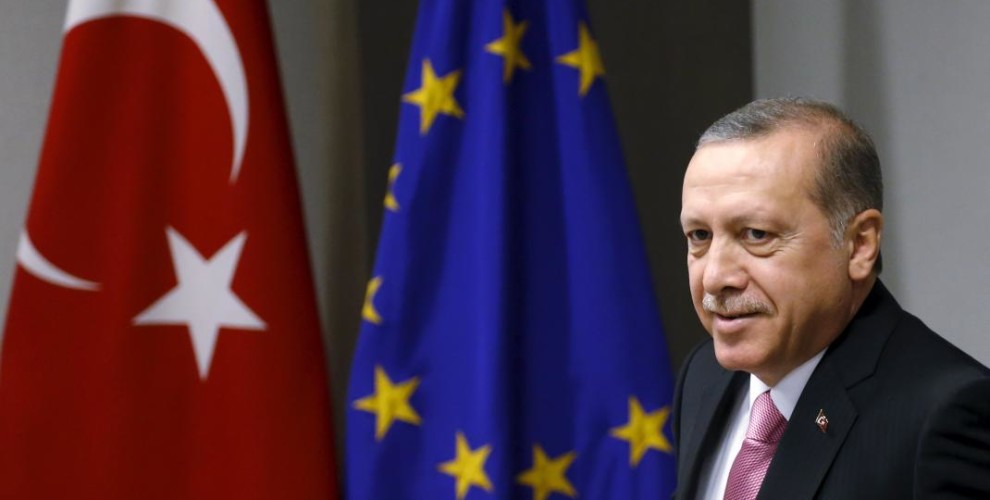 Human Rights Watch (HRW) released a statement calling on the European Union to signal that discussion of upgraded economic cooperation is dependent on Ankara's willingness to tackle its human rights and rule of law crisis during the meeting planned for May 25, 2017, between European Union leaders and President Recep Tayyip Erdoğan of Turkey.
The meeting, on the sidelines of the NATO summit meeting in Brussels, between President Erdoğan and European Commission President Jean-Claude Juncker and European Council President Donald Tusk, is expected to include discussion of a possible new customs union.
"At the first meeting with President Erdoğan after he won a referendum that expands his power, the EU should put human rights firmly back into the picture," said Lotte Leicht, EU director at Human Rights Watch. "Presidents Juncker and Tusk should convey the message that with Turkey's EU accession stalled, deeper economic cooperation under a possible new customs union will depend on Erdoğan ending the deplorable crackdown in Turkey and taking steps to uphold human rights and the rule of law."
HRW pointed out that President Erdoğan's narrow win in Turkey's landmark referendum for a new political system has ushered in an executive presidential system, giving enormous centralized power to Turkey's president without the checks and balances needed to safeguard processes and institutions fundamental to democratic society. The referendum campaign took place in a deeply repressive climate under a state of emergency in the aftermath of the failed July 15, 2016 military coup.
"Repeatedly extending emergency rule, Turkey's president and government have silenced independent media, closed down media outlets, jailed more than 150 critical journalists and the leaders and members of parliament from the pro-Kurdish parliamentary opposition, and repeatedly threatened to reintroduce the death penalty. Emergency decrees resulted in the summary dismissal of more than 100,000 civil servants, including police, members of the military, teachers, academics, judges, prosecutors, and health professionals for alleged support for US-based cleric Fethullah Gülen or for unsubstantiated connections with other outlawed groups. Turkey accuses Gülen of masterminding the attempted coup."
Up to 50,000 people are in pretrial detention on suspicion of involvement in the coup attempt or membership of what the government terms the Fethullahist Terror Organization. The Turkish government has confiscated by decree and without a right of appeal at least 600 companies worth billions of dollars, contending that the companies supported the Gülen movement. In many cases, people have been detained or businesses seized without due process. The blanket charge of non-violent association with a religious group cannot alone be construed as a terrorist offense, Human Rights Watch said.
Human Rights Watch said they continue to receive allegations that some detainees have been beaten, threatened with rape or threatened with the rape of members of their family, and generally coerced into confessing crimes in violation of Turkey's own laws and international human rights law.
HRW also pointed out thatjJournalists held in prolonged pretrial detention face charges such as terrorism and coup plotting, for which the penalty is life in prison, simply for articles and television commentary that have not in any way advocated violence or supported military coups.
"Turkey's disastrous record on restricting free speech also extends to the internet, with the authorities blocking thousands of Twitter accounts and websites – including, since April 29, the entire Wikipedia site – because they allegedly include online content critical of President Erdoğan or the Turkish government.
Over the past eight months, President Erdoğan and the Turkish government have ruthlessly cracked down on the leaders and members of parliament from the pro-Kurdish parliamentary opposition Peoples' Democratic Party (HDP). The Turkish government has jailed leading elected HDP members of parliament, including Selahattin Demirtaş, the party's popular leader. All face terrorism charges, mainly based on their political speeches and lacking any credible evidence of activities that could amount to terrorism.
The Turkish government has also taken direct control of 86 municipalities in the mainly Kurdish southeast region of the country, suspending and jailing elected mayors. The crackdown on democratically-elected politicians not only violates their rights to political association and participation, and freedom of expression, but also deprives millions of voters of their chosen representatives in parliament and local government.
The dramatic deterioration in Turkey is inextricably linked with a state of emergency that allows the president to head the cabinet and rule by decree, bypassing parliamentary scrutiny and any judicial review of decrees. The more than 100,000 civil servants dismissed cannot currently appeal their dismissal through any court in Turkey. And they face major obstacles to finding employment or a livelihood after being blacklisted, with their names on a list of people linked with outlawed organizations.
The state of emergency was prolonged after Erdoğan's referendum win on April 16. At the Justice and Development Party congress on May 21, Erdoğan assumed leadership of the party and announced that he saw no reason to end emergency rule in the period ahead."
Today, Turkey is the world leader in jailing journalists and charging them with terrorist offenses purely for peaceful, albeit critical, writings and commentary," Leicht said. "Juncker and Tusk should insist that EU-Turkey relations depend on Erdoğan's releasing journalists and elected politicians, ending the state of emergency used to perpetuate a lawless crackdown on perceived opponents, and dropping any idea of reintroducing the death penalty."