HDP pays tribute to Serdar Tanış and Ebubekir Deniz who disappeared in Silopi 22 years ago
HADEP Silopi chair Serdar Tanış and party's member Ebubekir Deniz, who disappeared after being detained by the Turkish gendarmerie, were commemorated in Silopi.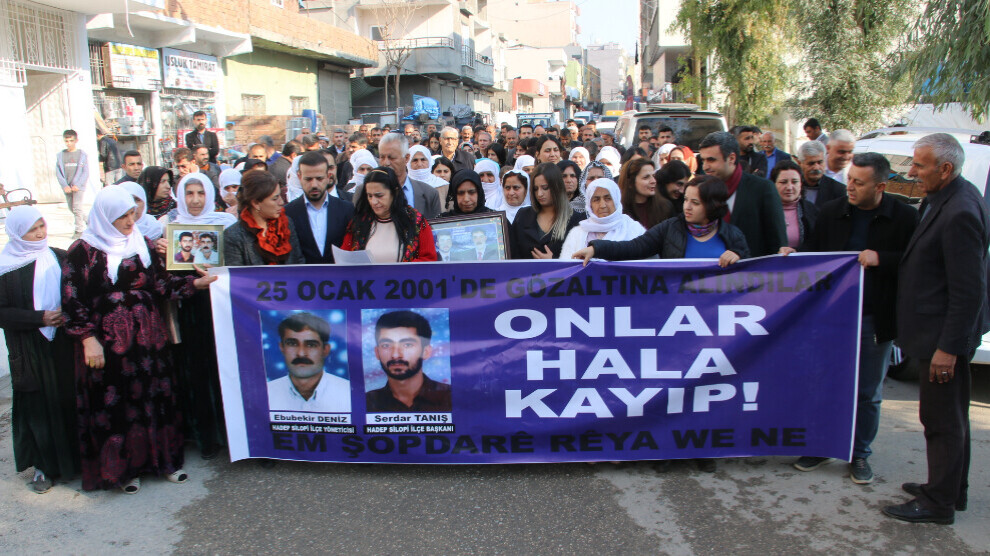 Serdar Tanış and Ebubekir Deniz have been missing since they went to Gendarme Headquarters on 25 January 2001 in Silopi, in the province of Şırnak. The families of the disappeared politicians have been demanding justice and the truth for 22 years.
HDP Silopiya District Co-chair Asuman Kulter said: "In the 22 years that have passed, we, as the comrades of all the desaparecidos, have not taken a single step back from the honorable struggle Serdar and Ebubekir left us. We have become millions of Serdars and millions of Ebubekirs. The judiciary, which has been protecting  murderers with its policies of impunity for 22 years, is today wielding a sword against our party, the HDP. We will never stop defending the struggle for democracy, peace and freedom."
Background
The families filed a criminal complaint. Silopi Chief Public Prosecutor's Office launched an investigation against 47 soldiers in Şırnak Gendarmerie Regimental Command. The investigation, which did not involve Şırnak Gendarmerie Regimental Commander Levent Ersöz and Silopi District Gendarmerie Commander Süleyman Can, both of whom families call responsible for the incident, resulted in the verdict of non-prosecution in a short time. 
ECHR fines Turkey
Subsequently, the families' applications to Diyarbakır and Malatya State Security Court (DGM) got no results, either. If there was a deadlock in domestic law, the European Court for Human Rights (ECtHR) fined Turkey 172 thousand euros for the disappearance of Serdar Tanış and Ebubekir Deniz. However, the investigations which were launched with the efforts of families following the ECHR decision ended once again with nothing.
On 2 January 2014, the bones of a person in a blanket were found in Dargeçit Municipality Cemetery during a dig. The authorities took DNA samples from two families to determine to whom the bones belonged. Following the DNA testing, Istanbul Forensic Medicine Institute announced that the bones did not belong to the disappeared HADEP members.