HDP deputy Gergerlioğlu says police used force against him
HDP Kocaeli MP Ömer Faruk Gergerlioğlu said after his release that the police used force against him when he was arrested.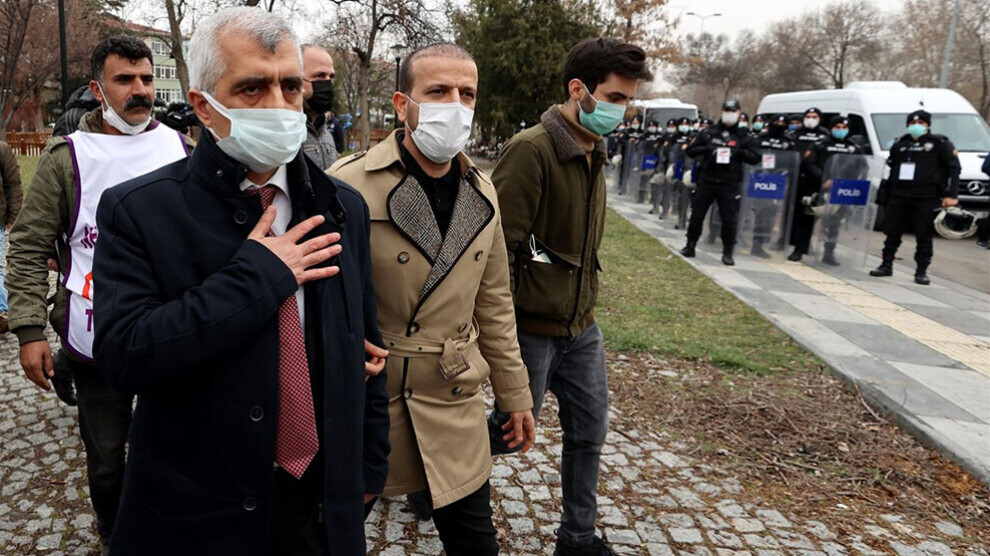 After Ömer Faruk Gergerlioğlu, MP of the Democratic Party of the Peoples (HDP) was stripped of his deputyship, his party's group held a sit-in in parliament for several days. The MP also joined the action and was arrested on Sunday, while in the parliament, preparing for his morning prayer. The politician was detained at the Kavaklıdere Police Station for several hours.
After his release, Gergerlioğlu made a statement. He was received by the MPs Hüda Kaya, Hişyar Özsoy, Hüseyin Kaçmaz and Erol Katırcıoğlu. At a press conference, Gergerlioğlu announced that he had been ill-treated by the police. The police injured his arms and hit his fingers and back. The politician had visible abrasions on his arms.
Gergerlioğlu reported: "After washing my hands in the morning, I did the religious ablutions and said to the police: 'Let me pray and put on a top, I still have slippers on, then we go.' They said, 'No, that won't work.' They said I could pray at the police station. I replied that the time for morning prayer would be over. They didn't accept that. They attacked me, grabbed my arm and dragged me out. They took me to the elevator. They pulled me and beat me in various places. My fingers are numb. Then I was forced into a police car. These are very ugly pictures."
"What happened to me shows the whole world the real face of the regime"
Gergerlioğlu continued: "Everyone knows that the repression is one hundred percent political. We are punished for our work. It is only because we have called for peace that they are bringing proceedings against me. Under political pressure, the judiciary accelerated to an exceptional rate. Even if the parliamentary president could have waited for the end of the legislative period, he immediately brought this decision to parliament, unconstitutionally. At least he should have waited for the Constitutional Court. We want to state the following: You are trying to force members of this nation out of parliament. But Turkey and the world saw your real face."
"Protocol was changed"
Gergerlioğlu added: "When we got to the police station, a second shameful event happened. I was taken to the station at seven and released only in the evening. Why? Because my statement was interfered with. That can't happen. Everything I said about my arrest has been removed from the record. I tried to make sure it was put back in. A man in civilian clothes came in. We don't know who that was. He didn't answer the question. But he kept coming in, talking to someone else and interfering with the protocol. That shows the hostile attitude towards me and my party."