HDP deputies call for action for hunger strikes
HDP MPs drew attention to the ongoing hunger strike resistance against Kurdish People's Leader Abdullah Öcalan and said, "We call on all democratic public opinion to raise voice over the prisoners' situation."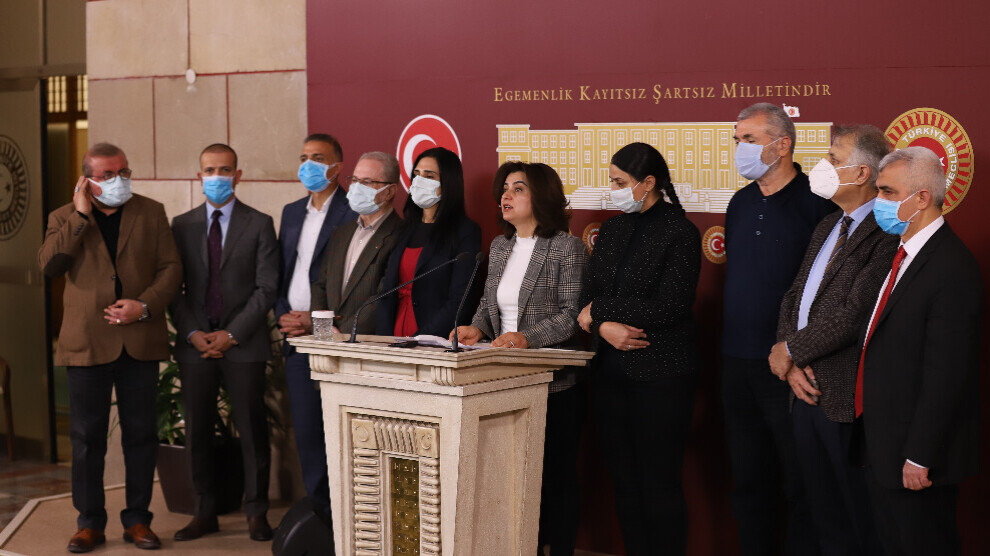 Peoples' Democratic Party (HDP) deputies Kemal Bülbül, Hüseyin Kaçmaz, Abdullah Koç, Celadet Gaydalı, Şevin Coşkun, Feleknas Uca, Kemal Peköz, Ömer Faruk Gergerlioğlu, Erol Katırcıoğlu and Gülistan Kılıç Koçyiğit called for sensitivity to the ongoing hunger strikes against Imrali isolation in prisons at a press conference they held in the Parliament in capital Ankara.
Speaking on behalf of the MPs, Gülistan Kılıç Koçyiğit said: "The main demand of the hunger strike resistance that was started by thousands of prisoners in 120 prisons on 27 November 2020 is to lift the isolation on all prisoners, especially on Mr. Abdullah Öcalan, and the end of the lawlessness in prisons as soon as possible."
Koçyiğit remarked over the recent rights violations in Turkey, saying the following:
Strip searches become widespread; the living spaces of prisoners are being watched with cameras. According to the Asrın Law Office's 2020 report on the rights violations in Imrali Island Prison, Mr. Abdullah Öcalan and other prisoners on the island were mainly deprived of their right to meeting with lawyers and family members, right to phone, letter, fax and all kinds of communications and an absolute isolation has been put into practice on Inrali that turned it into a prison of isolation.
In 2018, we witnessed a hunger strike action that started under the leadership of Leyla Güven to protest the Imrali isolation system and lasted about 200 days. As many as three thousand people in many parts of the world went on hunger strike that later evolved into death fast. 9 other people took their own lives in protest. The protests in and outside of prisons led to the realization of the 5 lawyer and 3 family meetings held on Imrali in 2019 due to public pressure. However, this door was closed in 2020 when a family visit was allowed on March 3 and a telephone conversation on April 27, again enforced by public pressure after a fire on Imrali and pandemic breakout. As the isolation remained in place and no favorable development took place, another hunger strike action began on November 27. The AKP government has placed the entire country under isolation.
Until now there has been a heavy death toll of hunger strikes in Turkey and hundreds of people have lost their lives in this resistance. During the 200 days of hunger strikes launched against the isolation in 2018, 9 people lost their lives. Grup Yorum members and lawyers of People's Law Office, who went on hunger strike demanding a fair trial, died. Moreover, during these periods, the government did not comply with any of the commitments it made and did not fulfil its responsibilities. Most importantly, the government did not take a slightest action to keep them alive. We would like to underline that we as social opposition have to act in order not to experience more casualties before it is too late and before we get to the same point again.
As the HDP, we state that we will show more strongly the sensitivity we have shown before on this issue, and we call on all democratic public opinion to raise their voice to the prisoners' situation. Our expectation is not from the government that conducts unlawfulness and attacks, in fact, our basic expectation is from pro-democracy social forces. Human life is precious to us, it is sacred, so we call on all to stay away from attitudes that would put the prisoners lives at risk."